Spanish Minister Faces Questions Over Links to Panama Firm
by
Industry Minister Soria under pressure over offshore links

Opposition calls for resignation before statement next week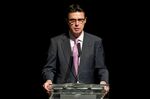 Spain's acting industry minister, Jose Manuel Soria, is facing calls to resign over his alleged links to an offshore firm mentioned in the Panama leaks.
On Monday, Soria said he had no connection to U.K. Lines, an offshore company set up by Panamanian law firm Mossack Fonseca before he entered politics, arguing his name showed up on the list by mistake. His brother's name also appeared on the documents, first reported by El Confidencial website.
On Tuesday, Soria said his late father had been a partner in a U.K.-registered company with the same name. The stake was sold after his parent's death in 1990 and he had no relationship with the firm from that point, Soria said. The minister came under renewed attention on Wednesday after El Confidencial published a signed copy of a U.K. company filing showing he replaced his father as secretary of U.K. Lines after he died. Soria declined to comment on the document when questioned by reporters at a conference in Madrid.
The contrast between his accounts, and the defiant tone of his initial denials, has drawn scrutiny from opposition parties and Spanish media, poring over the timeline of events and his statements. The Socialist Party and anti-austerity group Podemos have called for his resignation, while Ciudadanos demanded Acting Prime Minister Mariano Rajoy testify before parliament. Soria is due to appear in parliament next week to answer questions from lawmakers on the topic.
So far, the Rajoy's government has thrown its support behind Soria, rejecting calls for him to step down as it prepares for a likely election in June. Acting Economy Minister Luis de Guindos said Wednesday he had known Soria for more than 30 years and had full trust in him, while Foreign Minister Jose Manuel Garcia-Margallo said he had no reason to doubt his colleague.
Before it's here, it's on the Bloomberg Terminal.
LEARN MORE