RWE Sees U.K. Profit Recovery as It Seeks to Regain Clients
by and
Utility ranked bottom in Which customer survey for six years

Plans to cut U.K. workforce by 21% after posting 2015 loss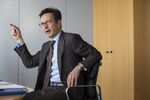 RWE AG will stand by its Npower unit in the U.K. after billing issues that led to a customer exodus and a net loss.
The Essen, Germany-based company has no plans to sell either its U.K. residential supply or power generation businesses, Chief Financial Officer Bernhard Guenther said Tuesday in an interview. The company can replicate its profitable supply businesses in countries including Germany, Belgium and the Netherlands in the U.K., he said.
The utility announced last month that it will cut 2,400 staff as part of a two-year recovery program in Britain, its biggest market after Germany. Npower is seeking to turn around a unit that lost 207,000 electricity customers in 2015, received the lowest satisfaction score for the past six years in an annual survey carried out by consumer group Which and was fined 26 million pounds ($37 million) by the U.K. regulator in December for failing to treat customers fairly after billing issues that affected more than half a million clients. 
The billing issues were "a disgrace" that the company's management is responsible for correcting, Guenther said. "Retail in the U.K. is our core business. To fix what went wrong in the U.K. is not rocket science."
RWE outlined in March plans to restructure Npower and reduce costs after posting an operating loss of 137 million euros ($156 million) last year, compared with a profit of 227 million euros in 2014.
"We have a clear turnaround plan in place that shows how we plan to move back to normal levels by 2018," Guenther said.

A 28 percent drop in the price of U.K. power in the past year has been tough for RWE's generation business, which withdrew a planning application for a 2.4-gigawatt gas-fed plant on April 4. While the company plans to keep the power stations it owns in the U.K., it won't build any new ones, Guenther said.
From 2018, RWE will receive capacity payments from the U.K. government to guarantee that its plants will be available when needed by the grid.
"The capacity market as it currently stands gives money to survive for existing assets but not enough incentives to build new ones," Guenther said.
If capacity market auctions start clearing at higher prices that encourage new-build generation, then RWE's position may change, analysts at RBC Capital Markets LLC wrote in an e-mailed note.
As an island with limited interconnections, the U.K. can't just rely on imports of electricity from its neighbors and will need to build more power stations to meet demand, Guenther said.
"We think the situation in the U.K. will change for the better in the coming years on the generation side," he said.
Before it's here, it's on the Bloomberg Terminal.
LEARN MORE