South Korea Ruling Party Routed as Weak Economy Saps Support
By
Rising unemployment, sluggish growth turn voters against Park

Results confound predictions of big gains for ruling party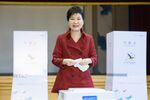 President Park Geun Hye's ruling party was routed in South Korea's parliamentary elections as voters frustrated over rising joblessness and the president's leadership denied her a majority and dampened her economic reform plans.
The opposition Minjoo Party won 123 seats in the 300-seat National Assembly on Wednesday, edging out the ruling Saenuri Party's 122 seats, according to final results from the National Election Commission. Pre-election polls showed Saenuri extending its hold, with some media outlets projecting the possibility of a 180-seat super-majority that would've let Park fast-track legislation. The People's Party secured 38 seats.
The Korean won fell 0.8 percent, with yields on 10-year bonds rising on the prospect of more gridlock of the sort Park has encountered in the first three years of her five-year term. The benchmark Kospi Index surged 1.2 percent, poised to close at its highest level since December, as Korean stocks were caught up in a global rally unrelated to the election.

"Angry, young Koreans made yesterday a judgment day for the Park administration," said Oh Jung Gun, an economist at the Korea Economic Research Institute in Seoul. "Park's grip on power will probably weaken because the election has shown that her long-time voters are disappointed with her party."
The Saenuri Party's setback will likely make it harder to pass structural reforms, and that would be credit negative, said Steffen Dyck, vice president and senior credit officer for the sovereign risk group at Moody's. "If legislative delays worsen ahead of Korea's next presidential election, due in December 2017, it would reduce the government's effectiveness," he said.
The People's Party -- a group that broke off from Minjoo -- may be the biggest winner. The party almost doubled its current 20 seats, likely making it key to governing and increasing the chances that its leader, businessman-turned-politician Ahn Cheol Soo, 54, will make a run for the presidency next year. Park is limited to one term.
Ahn, a former professor, gave up his presidential bid in 2012 despite polls suggesting he could beat Park. Shares of anti-virus software company Ahnlab Inc., which he founded, have risen more than 27 percent since the parliamentary campaign began on March 31.
'No Jobs'
Park's hard-line approach toward North Korea didn't register with voters while a slumping economy may have weighed more heavily on their minds. South Korea's youth unemployment rate hit a record in February and exports have fallen for 15 consecutive months.
"I feel that the economy isn't doing well," said Jeong Myung Hwa, 29, who works at a marketing company. Jeong said she supported the People's Party led by Ahn because the two main parties seemed hungry for power rather than being focused on improving the economy.
Saenuri Party Chairman Kim Moo Sung resigned Thursday. Park spokesman Jung Youn Kuk said Thursday that the results reflected popular demand for a "renewed National Assembly that takes care of the livelihoods of the public and works for the people."
Saenuri pledged quantitative easing steps during the campaign while Park has tried to push through bills to reform the labor market, boost service industries and enhance cybersecurity. She has blamed parliamentary gridlock for the failure to pass her legislation and called for change in economic policies amid North Korea's nuclear threat and global economic uncertainty.
"The result fell far short of Saenuri's initial ambition," said Miha Hribernik, a senior analyst at risk consultant Verisk Maplecroft. "Park will now find it almost impossible to implement major economic changes during the rest of her time in office."