Poloz Expected to Add Recovery Language as Rate Cut Odds Fade
by
Bank of Canada decision and updated forecasts due at 10 a.m.

All 30 economists in a Bloomberg survey predict rates on hold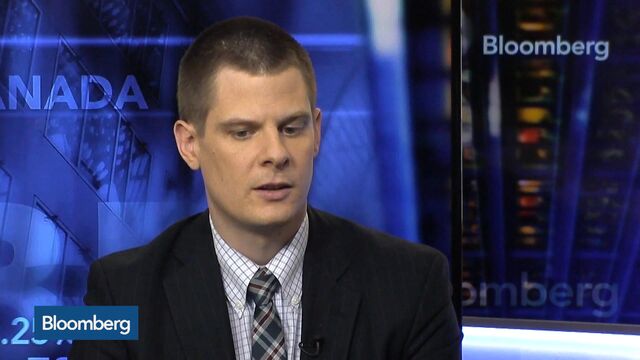 Bank of Canada Governor Stephen Poloz will have a delicate balancing act to perform when he delivers an interest rate decision Wednesday.
In a statement due at 10 a.m. in Ottawa, Poloz and his peers on the bank's Governing Council will point to the recent flurry of upside data surprises, while at the same time stressing a full recovery is still about two years away, economists said. The nuance is required to prevent further gains in the Canadian currency -- known as the loonie -- which would threaten to choke off a nascent export rebound.
"We're not expecting any move on interest rates from the Bank, and we doubt that it will want to sound too upbeat in its assessment of economic performance on the ground and near-term prospects, for fear of launching a much stronger loonie and nipping export momentum in the bud," said Robert Kavcic, a Bank of Montreal senior economist in Toronto, referring to the bank.
Trading in overnight index swaps shows only a 4.2 percent chance of a rate cut. Market reaction will depend more on the language of the bank's statement and accompanying Monetary Policy Report, in which policy makers are expected to upgrade estimates of first-quarter and full-year gross domestic product. That's to reflect data on output, trade and jobs that has topped median forecasts, and Prime Minister Justin Trudeau's fiscal plan last month that pledged C$118.6 billion ($92.9 billion) in deficit spending over six years.
Upgraded Forecasts
The rate decision will be followed by a press conference at 11:15 a.m. All 30 economists surveyed by Bloomberg predict Poloz will leave the benchmark unchanged at 0.5 percent after cutting it in January and July of last year. Economists have also upgraded forecasts for gross fixed investment and government consumption over the next three years.
"For the Bank of Canada it's going to be hard for them to sound too pessimistic when growth in the first quarter is going to come in around 3 percent," said Nick Exarhos, an economist at CIBC World Markets in Toronto.
There's still plenty to be concerned about. The bank will probably point to weak global demand and the recent deterioration in the U.S. economy. Policy makers may even cut their forecasts for growth post-2016, and delay the time-frame for when the economy will return to full capacity, according to David Tulk, Head of Global Macro Strategy at TD Economics.  
'International Conditions'
"The Bank of Canada is arguably more focused on the health of the U.S. economy than the Federal Reserve which has become more focused on international financial conditions," Tulk wrote in a note to clients.
On Tuesday, the International Monetary Fund cut its forecast for global growth and also reduced Canada's 2016 and 2017 gross domestic product estimates by 0.2 percentage points each to 1.5 percent and 1.9 percent. Deputy Governor Lynn Patterson said last month a recovery will take longer than two years as the commodity slump reduces aggregate earnings and an export rebound takes time to build.
Still, the bank will have to update its near-term forecasts. Output expanded at a 2.9 percent annualized pace between January and March and will gain 1.6 percent this year, according to a Bloomberg economist survey, faster than the bank's January projections of 1 percent and 1.4 percent.
GDP grew 0.6 percent in January, led by a 1.9 percent jump in manufactured goods. Output in non-energy commodity industries increased 4.3 percent in the last year through January, the most since November 2013, according to Bloomberg calculations on Statistics Canada data. The economy also added 40,600 jobs in March.
In a world economy still awash in risks, a neutral monetary policy will be the right thing until at least next year, economists say.
The bank's tone will be "quite upbeat," Emanuella Enenajor, senior Canada economist at Bank of America Merrill Lynch, said in an April 8 interview. She expects the central bank to be on hold for the rest of the year.
Before it's here, it's on the Bloomberg Terminal.
LEARN MORE