No Arrests or Car Chases, Saudi Vice Police Told After Criticism
by
Paid teams patrol public venues enforcing gender, dress laws

Saudis have used Twitter to protest aggressive behavior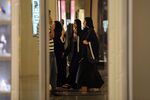 Saudi Arabia has banned its religious police from making arrests or embarking on car chases, curbing a force sporadically criticized as overzealous in upholding strict rules on the mixing of the sexes or acceptable dress.
QuickTake Saudi Arabia's Strains
The Committee for the Promotion of Virtue and the Prevention of Vice must now report violations to the Saudi police force and government agencies, the official Saudi Press Agency reported on Tuesday, citing a cabinet statement. Ministers issued a law clarifying the duties of religious police, it said.
The committee's paid teams patrol public venues like shopping centers in the conservative kingdom, enforcing Islamic laws that prevent unmarried men and women from mingling and ban alcohol. They also call people to prayer. Their actions have sparked anger though, with some officers accused of overstepping their authority and behaving aggressively.
Twitter is one medium Saudis have used to register their protest. One man, calling himself Mohammed Only, posted a tweet on Feb. 12 accusing the religious police of "shameful" behavior that could only be described as "masked terrorism." Another user called Maram asked: "Where is the Islamic justice in hitting a woman in public?!"
In February, the religious police were filmed beating and dragging a woman outside a mall in the capital after she refused to cover her face. Two years ago, an advisory body for the king said the committee's actions were causing tension within Saudi society.
The head of the force will from now on be appointed by royal decree and be a ministerial-level position, the official news service said.
Before it's here, it's on the Bloomberg Terminal.
LEARN MORE