Kobe, Warriors Ticket Prices Can't Stay So Insanely High
by
Ticket market is flooded with seats for tonight's NBA games

A seat for Kobe's final game currently averages $1,072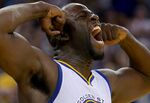 If you want to watch basketball history in the making, it'll cost you. Tickets to Kobe Bryant's final game have been listed at an average of $1,072 on the secondary market. A seat to see the Golden State Warriors (probably) set the league's single-season wins record averages around $380.
Or you can wait for the bubble to burst. The ticket market is flooded with seats for both games, according to data from ticket app Gametime. For fans within driving distance to Los Angeles's Staples Center or Oakland's Oracle Arena, that means bargains are coming. Gametime spokesman Sean Pate said in an email that he's expecting the oversupply to lead to "a relaxation in prices during the last-minute window."

There are now more than 1,600 resale listings for tonight's Lakers-Jazz game, about 50 percent more than average this close to tip-off, according to Pate. Current supply for Warriors-Grizzlies is also double normal levels.
Sellers are demanding high prices because Bryant is ending his Hall-of-Fame career with Los Angeles, where's he played his entire 20 year in the league and helped the Lakers to five titles. The Warriors are less of a sure thing: a win in their final regular-season game would secure the first 73-win season in NBA history, eclipsing the mark set by Michael Jordan's 1995-96 Chicago Bulls.
On the other hand, Pate says, Lakers fans have known since before the season started that this was scheduled to be Kobe's final game, and most who planned to make the financial investment probably bought tickets months ago. And despite a run on tickets after the Warriors' 72nd win Sunday at San Antonio, there's still an abnormally large number still available.
So how long do you have to wait? While the average seat to the Lakers is currently running around $1,072, the cheapest seats to the game at Staples tonight -- known as the "get-in price" -- are $800 to $900. Pate expects that to drop to around $500 by early this afternoon. Warriors tickets, he said, should also get cheaper by at least $100.
"At some point [prices] will need to come down," Pate said. "Last minute shoppers don't typically spend in those ranges."
Before it's here, it's on the Bloomberg Terminal.
LEARN MORE