JPMorgan Results Eclipse Living-Will Rejection, Spur Rally
by and
First-quarter earnings, revenue surpass analysts' estimates

Regulators reject plan for dismantling in event of bankruptcy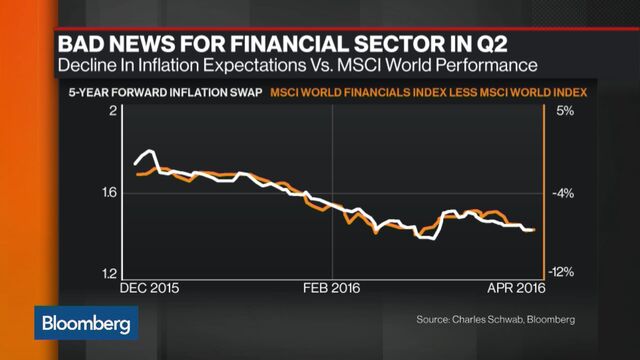 JPMorgan Chase & Co. reported earnings that beat analysts' estimates, kicking off a rally in U.S. bank stocks that withstood a regulatory setback.
First-quarter profit got a boost from improved trading in March, lower compensation and legal costs, and strength in retail banking. Net income of $5.52 billion and revenue of $24.1 billion exceeded expectations, and the New York-based bank's shares jumped 4.2 percent to close at $61.79, the best performance in the Dow Jones Industrial Average.

Trading revenue declined less than analysts' estimates as well, and the bank said a slump in those businesses in January and February eased in March.
(Related: JPMorgan Says Trading Results Stabilized in March and April)
Just as JPMorgan executives began a conference call with journalists to discuss the quarter, regulators announced that the bank -- as well as four other institutions -- had failed to credibly show how it could go bankrupt without bringing down the rest of the financial system. While the banks have until October to revise their so-called living wills, another failure would have real financial consequences. Regulators could force them to hold more capital or face other restrictions.
"We will do everything possible to fix this issue," Chief Executive Officer Jamie Dimon told reporters. "If other firms can satisfy that, I'd be surprised if we can't."
Dimon, 60, has been his industry's most prominent defender, saying that complexity isn't inherently bad, big corporations are better served by banks that operate globally, and JPMorgan benefits from its diverse businesses. Regulators said JPMorgan had an inadequate divestiture plan, was too complex and lacked appropriate models for estimating and maintaining liquidity. Also at issue was the bank's plan for unwinding trading operations in the event of a bankruptcy.
"Regulators are clearly pushing for simplicity and less complexity, and at the end of the day, they're being forced to move that way," said Shannon Stemm, an analyst at Edward Jones & Co. in St. Louis. "The news coming out on living wills is relatively negative; it introduces a lot of uncertainty between now and Oct. 1," when the revisions are due.
Living wills could hamstring banks' ability to easily move trading books or funding among their various legal entities, according to Brad Hintz, an adjunct professor of finance at New York University's Stern School of Business.
"That's the reason why the banks are being very careful about what they promise on this, because the very idea of a universal bank is that you can move everything around the world easily," Hintz said in an interview on Bloomberg Radio. "It's a direct attack on the business model of the banks."
(Related: Five Big Banks' Living Wills Are Rejected by U.S. Regulators)
The living-wills exercise was a key check on the biggest banks written into the Dodd-Frank Act, the regulatory overhaul prompted by the 2008 financial crisis. The fall of Lehman Brothers Holdings Inc. in September of that year demonstrated what could happen when huge financial firms land in bankruptcy court, and the resolution-planning process was designed to avoid a repeat.
JPMorgan kicked off earnings season for U.S. banks, which rallied after it reported results, making financial stocks the best performers among 10 major industries tracked in the Standard & Poor's 500 Index. Goldman Sachs Group Inc. was the third-biggest gainer in the Dow, rising 3.6 percent, and Citigroup Inc. surged 5.6 percent, the most since the beginning of March, after it was the only major U.S. bank to win regulatory approval for its living will.
Before it's here, it's on the Bloomberg Terminal.
LEARN MORE