Italy Bank Rescue Fund Not Enough to Erase Market Skepticism, Analysts Say
Size of Italian banks nonperforming loans far outstrip size of fund
by and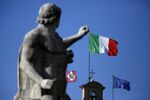 An agreement between Italian officials and bank executives to create a multibillion-euro fund to offload bad loans is a step in the right direction, say analysts, but the pact may not be enough to reassure investors that the pain for Italy's troubled banking sector is over. Banks, insurers and institutional investors agreed to create a vehicle named Atlante to help troubled lenders raise capital and offload bad loans.
The market is unlikely to treat the announcement as key break-through, said Commerzbank strategist Michael Leister, even if it is certainly positive that the Italian government and the private sector remain committed. The fund size of around 5 billion euros is probably small. He said the non performing loan problem remains the key risk.
RBC economist Cathal Kennedy said important details about how the scheme will work still need to be filled in. The real problem that hampers the ability of Italy to deal with non performing loans, Kennedy added, is the country's ''insipid'' economic recovery.
The size of the fund is very small, with at least twice the amount needed to make a difference, Lonsin Capital's Marco Elser said in an interview in Rome. "The problem is not the capital, but the legislation and how resources are employed. Italy should find a legal way to solve the issue of non-performing loans," he said.
The rescue fund announced by Italy officials is ''a classic six of one, and half a dozen of the other'' for ADM Investor Services International Ltd. strategist Marc Ostwald. "While putting these measures in place is a step in the right direction, there is a lot of skepticism that a five billion fund would be adequate when the non performing loans at Italy's banks are more than 300 billion," he said. Moreover, the size of the fund is not necessarily the decisive factor. ''Much depends on how it is managed, above all in terms of the legal backdrop for resolving NPLs'' While a short-term relief for bank stocks is likely, a mountain is still to be climbed for the sector.
At first sight, the new plan to clean up nonperforming assets in banking system appears to be a step in the right direction, said Barclays's Antonio Garcia Pascual. Still, it is early to state whether it will change the lending dynamics and growth prospects of Italy or pass European Commission filter on state aid rules and whether the sovereign will eventually need to incur some of the recapitalization costs. "Another critical piece for a swift resolution of problem loans would be new legislation to speed up the recovery of problem loans as, currently, the expected recovery period on collateral for problem loans is far too long," he said.
Before it's here, it's on the Bloomberg Terminal.
LEARN MORE