Impeaching a Brazilian President Is Complicated: a Quick Guide
by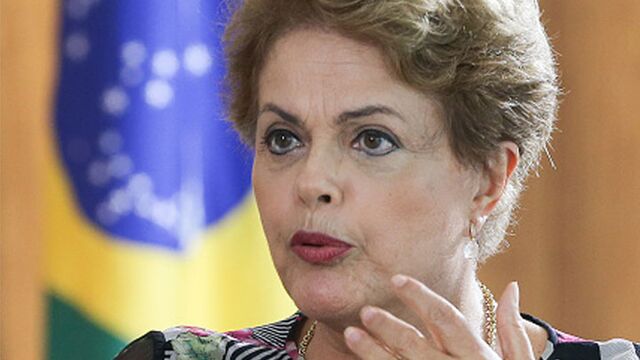 Brazil's impeachment campaign reaches a critical stage as a key vote on the future of President Dilma Rousseff is scheduled for Sunday.
Markets have rallied on hopes that Rousseff's removal would speed up a resolution to the political stalemate that has paralyzed the nation. More government allies defected this week after the president suffered a defeat in a congressional committee that recommended impeachment proceedings move forward.
This is how impeachment may unfold:
* Brazil Supreme Court published in March a list of procedures it requires Congress to follow in order to impeach the president. It decided, among other things, that all votes in congress must be public. The Justices also confirmed their earlier decision to give the Senate the final word on whether to start official impeachment hearings.
* The lower house will vote on Sunday on a report prepared by the committee that recommended impeachment proceedings move forward. If impeachment is backed by two-thirds of the house, or 342 lawmakers, the accusation goes to a special committee in the Senate which will prepare a report accepting or rejecting it. 
* The Senate must vote on this report and can approve it or reject it by 41 votes -- the simple majority of 81 senators. If they approve the accusation, official impeachment hearings will then start at the Senate before a final vote on whether to impeach the president.
* As deliberations in the Senate start, President Rousseff is temporarily removed from office and Vice President Michel Temer steps in. The Senate needs support from two-thirds of its 81 members to impeach the president and terminate her mandate. If impeached, she would be banned from public office for eight years.
* If discussions in the Senate last more than 180 days without a decision, the president resumes office.
* In a separate process, Brazil's top electoral court TSE may decide to oust Rousseff and Vice President Michel Temer if it finds that illegal funds from Petrobras were funneled into their re-election campaign. The TSE is currently examining a case against Rousseff presented by the PSDB opposition party. 
* If the TSE decides to annul the election of Rousseff and Temer by December, new general elections must be scheduled in 90 days. If that decision is made in 2017, the new president is elected by Congress in 30 days. In any case, the government may appeal the TSE decision in the Supreme Court.
Before it's here, it's on the Bloomberg Terminal.
LEARN MORE