IMF Warns of Possible 'Spiral' of Waning Growth, Escalating Debt
by
Global debt rising as emerging markets struggle, IMF says

Spending cuts could set off cycle, fund's fiscal chief says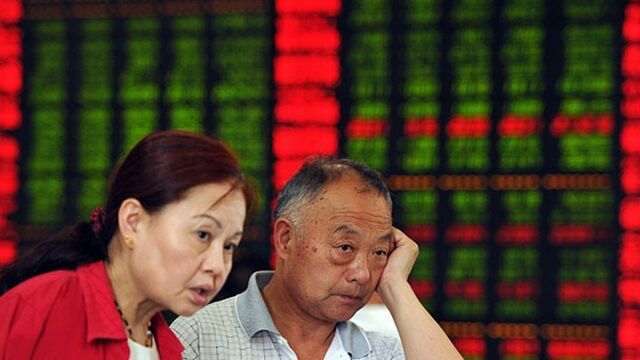 Global policy makers need to guard against a self-reinforcing "spiral" of weakening growth and rising debt that could require a coordinated response by the world's major economies, according to the IMF's top fiscal watchdog.
Most countries are on a higher debt path than they were a year ago, the International Monetary Fund said in its semi-annual Fiscal Monitor report released Wednesday. Fiscal deficits in 2015-2016 in emerging economies are projected to exceed levels during the global financial crisis, as countries struggle with low oil prices, cooling investor sentiment and intensifying geopolitical tensions.
The warning on countries' debt reinforces the fund's message in two other reports this week that the world risks slipping to stagnation without strong action by policy makers, who are gathering in Washington for spring meetings of the IMF and World Bank. If gross domestic product growth in advanced economies slides further, that would raise public and private debt levels as a proportion of output, said Vitor Gaspar, head of the IMF's fiscal-affairs department.
"In such circumstances you can imagine that households, firms, and governments will be tempted to cut further expenditures," Gaspar said in an interview. "That puts further downside pressure on nominal GDP growth, and that would be a spiral that one must avoid."
Debt is growing especially fast among oil producers, whose budget plans have been thrown into disarray by the collapse in crude prices. In the Middle East and North Africa, cumulative deficits are expected to widen by $2 trillion over the next five years, relative to 2004-2008, when oil prices peaked, according to the IMF.
Triple Threat
Advanced economies, meantime, are facing the "triple threat" of low growth, low inflation, and high public debt, the fund said.
The IMF is urging countries with fiscal room to use budget measures such as increased spending or tax cuts to boost demand.
If a low-growth, high-debt spiral takes hold, the responses of individual countries won't be enough. Major economies will have to quickly act together to combat the "stagnation forces" through measures to spur both demand and supply, said the Washington-based fund, which was created during the World War II to oversee the global monetary system.
"Our evaluation is that risks are at this point in time more considerable than they were, say, six months ago or one year ago," said Gaspar, a former finance minister in Portugal.
"The expression we use for the way we look at global developments at this time is a state of alert. We are on alert, we're definitely not on alarm."
Gaspar said Japan should ensure it's providing enough fiscal stimulus to offset the economic hit from the government's plan to raise the nation's consumption tax. "They should make sure that from an aggregate viewpoint, there is no contraction in the fiscal stance," he said.
Meanwhile, he said the IMF supports the European Union's willingness to relax its deficit rules to allow the additional spending needed to absorb the stream of Syrian refugees.
"What is right to do from a humanitarian viewpoint, which is to try to smooth the integration of these people as completely and rapidly as possible, is also the strategy that pays off better in terms of not only social harmony and integration but in terms of economic benefits," he said.
Before it's here, it's on the Bloomberg Terminal.
LEARN MORE