Exxon's CEO Compensation Falls to $27 Million as Shares Slump
By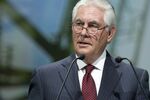 Exxon Mobil Corp.'s Chief Executive Officer Rex Tillerson saw his pay slide 18 percent last year to $27.3 million as the company's shares tumbled.
Tillerson's annual stock award fell by more than 14 percent to $18.3 million after the board awarded him the same number of shares as in prior years, according to a proxy statement filed Wednesday. The world's biggest energy producer by market value saw its stock decline by 16 percent last year as crude prices plummeted by almost one third.
Tillerson's bonus was $2.39 million, down by about 35 percent from the previous year after Exxon's earnings fell. Half of the bonus is subject to additional performance targets and pays out at a later point. He received a $3.05 million salary for the year that will be increased by about 4 percent in 2016, according to the filing.
Darren Woods, Exxon's CEO-in-waiting, received a $10.3 million pay package. The pay reflects his role as a senior vice president which he held until his promotion to president took effect on January 1.
Senior executives receive half of the shares from equity awards after five years. The remainder is paid out at the later of their retirement or 10 years after the stock is granted. An Exxon spokesman didn't immediately respond to an e-mail seeking comment.