Reports of the Death of Europe Are Greatly Exaggerated
by
Predicting the demise of the 28-nation EU for fun and profit

But which will crumble first: United Europe or United Kingdom?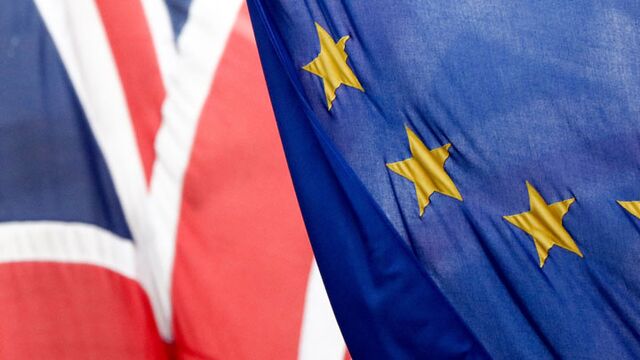 Google "European Union Collapse" and you get 32.6 million results.
Prophecies abound that economic anxiety, refugee hordes, terrorism, populism, border fences, anti-German resentment, British standoffishness, Russian belligerence and American indifference -- the doom-list goes on -- will splinter the EU into smaller regional blocs or, in the extreme, into 28 untethered nation states.
There are germs of truth in these end-of-the-EU storylines: Britain could vote to pull out in June, another shock could propel Greece out of the euro, and the cumulative burdens could aggravate anti-European feeling in Germany, the largest and geographically pivotal country in the bloc of 500 million people and up until now the guardian of the system.
Often, however, the prophecies say more about the biases of the prognostication industry and the media's infatuation with negativity. Multi-scenario forecasts -- most have three, and a recent exercise by the EU's border-management agency imagined seven alternative futures -- are duly bound to include the apocalypse as an option.
Roubini Global Economics puts a 40 percent probability on the EU not surviving in its current form until 2025 -- fair enough, given that Britain might be gone soon, tempting others to follow. But it also attaches 40 percent odds to a perpetuation of EU muddle-through and a 20 percent chance of a more united bloc, centered around a fiscally integrated euro zone.
History of War
Brunello Rosa, the main author of the Roubini forecast, said he doesn't specialize in "doom and gloom-type" thinking, though he sees a growing risk of accidents like a British exit, sealing of some internal borders, German leadership crisis or European Central Bank failure to reanimate the euro economy.
"It's not a question of everything going down the drain," Rosa said. "It's describing quite specifically the channels that could lead to the EU first becoming less functional, and from being less functional, to potentially disintegrating.''
The problem with predictions of atomization is that they require not one, but all 28 EU countries to secede, and all 19 users of the euro to go back to their national currencies. Even the EU's most die-hard detractors don't expect that. Once unbound, the newly disconnected nation states would have to find a way of organizing the affairs of a continent that generates gross domestic product of about $17 trillion, just shy of the U.S.
It stands to reason that they would hit upon something like the present-day EU, which for all its gridlock, beats the alternatives Europe has lived through in its fragmented, warlike past. Popular backing for the euro, single market and inner-EU labor mobility is solid; while 55 percent of Europeans polled in November said they don't trust the EU, 66 percent said they don't trust their national governments.
Ghost Union
That leaves open the possibility of what Mark Fleming-Williams, an analyst at Stratfor, an Austin, Texas-based political risk consultancy, calls a "ghost EU" ticking along in form but not function. He foresees a gradual chiseling over the next decade into a hard core anchored by Germany and France, with varying links to blocs in Scandinavia, northeast Europe and central Europe. Britain (assuming it stays intact, which is not a given) and Ireland would form a tandem, as would Spain and Portugal, and Italy would nestle beneath the Alps.
Through it all, Fleming-Williams said, the EU's German-French bedrock will endure. "There are geopolitical reasons why Germany and France must remain tied together -- and the geopolitical reasons are three wars in 70 years before 1945," he said. "That's not that long ago, these are still strong considerations."
Futurology with a side order of ruin isn't only a private sector entertainment. EU boffins do the same, with the outcomes ranging from Armageddon to nirvana. There was a "Global Europe 2050" braingame, published by the European Commission's research department in 2012, which ran the gamut from fragmentation to standstill to "EU renaissance."
In March, as EU leaders weighed giving it more powers to respond to the refugee wave, the bloc's Frontex border-supervision agency got into the act. Its worst-case scenario, "Attrition," foresees EU shrinkage and the rollback of entitlements like passport-free internal travel over the next decade; the best case reads like the multilateral dreamscapes that were briefly in vogue in the 1990s.
EU Allegiance
A 1999 paper by the commission's in-house think tank nodded to the idealized future of a competitive European social market economy embedded in a rules-based world, but also warned of the cross-border crime, terrorism and untrammeled immigration that have since become daily reminders of the downside of globalization.
Anna Michalski, who co-authored that five-scenario paper and is now an associate professor at Uppsala University in Sweden, said it's easy to pick on the EU because no one is born with an allegiance to it.
The EU "was imagined, set up and created by a number of thoughtful leaders," Michalski said. "Obviously something you have created can be picked apart. It's harder to say a nation state could be that easily torn apart, but that's also possible."
Britain's near-miss in 2014 when Scotland narrowly voted against bolting from the U.K. provides evidence of the latter point. The betting is that the pro-EU Scots will try again if Britain exits the EU. That, in turn, could produce the ultimate irony of the Brexit campaign: Britain crumbling before the EU does.
"If the EU didn't already exist, we would be seeking to create it," Alex Salmond, former head of the Scottish National Party, told a U.K. parliamentary committee on Tuesday.
Before it's here, it's on the Bloomberg Terminal.
LEARN MORE