Earthquake of 6.9 Magnitude Jolts Myanmar; Tremors Felt in India
by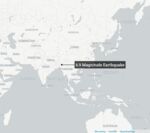 A 6.9 magnitude earthquake struck Myanmar, the U.S. Geological Survey said, with strong tremors felt in neighboring Bangladesh and India.
There were no immediate reports of damage to property and life, Press Trust of India reported.
The region has a history of catastrophic quakes because the tectonic plate that carries the Indian subcontinent is pushing northward into the main Asian plan.
Devastating quakes in April and May last year in Nepal killed more than 8,000 people, injured about 18,000 and triggered deadly avalanches on Mount Everest.
Before it's here, it's on the Bloomberg Terminal.
LEARN MORE