business
Next Obstacle Is Profits as Surging Global Stocks Erase Loss
By and
Analysts call for profit drops in Europe, 2.5% growth in U.S.

Global equities remain about 9% below their May record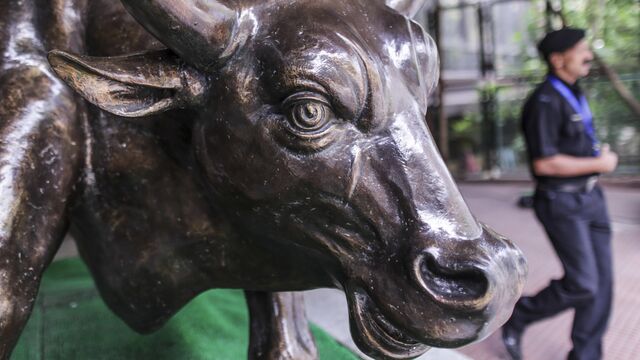 It took just two months for global equities to erase their worst start to a year. Keeping the rebound going is unlikely to be as easy.
Shares tracked by the MSCI All-Country World Index have rallied 14 percent since February, a stretch that included the longest run of weekly gains in two years, and pulled back to even Wednesday with the biggest surge in a month. Gains are coming as investors claw their way through concerns ranging from slowing global growth to the worst U.S. earnings season since the financial crisis.
Skepticism is visible even among normally bullish U.S. equity strategists, who after more than $6.5 trillion was added back to the value of global stocks are predicting only about 3.3 percent upside in American shares for the rest of the year. Globally, economists are forecasting the slowest expansion in gross domestic product since just after the financial crisis -- a hazard with stock valuation peeking above historical averages.
"Nobody can really tell you where growth will come from," said Francois Savary, chief investment officer at Prime Partners in Geneva. "We can't really ignore the fact that we've gotten that rebound, valuations are quite high again. But if profits don't recover, then equities won't have much of a support. The glass is definitely half empty."

After sliding 4.3 percent last year to end at 399.36, the MSCI All-Country World Index lost another 12 percent through the first six weeks of 2016, bottoming on Feb. 11 at 353.35 as concerns grew about China's currency devaluation, the collapse in oil and negative interest rates in Europe and Japan. It rose 0.3 percent at 9:46 a.m. in New York.
The rebound in the gauge of global equities has sent its valuation to 15.5 times projected earnings, higher than its three-year average. Analyst cuts to profit estimates worldwide have outnumbered increases every week since July, according to an index compiled by Citigroup Inc. They're projecting an earnings contraction in Europe this year, and a rise of just 2.5 percent in the U.S.
The tumble in profits has been worrying stock investors across the globe. After previous earnings peaks in December 2007 and in March 2001, net income at companies worldwide began a descent that took them down more than 50 percent. Global growth slowed as developed economies recorded a contraction within the following year. In 2012, when the expansion worsened, earnings fell too -- though less than now.
"A litany of concerns are weighing on investors' minds," Jim Paulsen, chief investment strategist and economist at Wells Capital Management, a unit of Wells Fargo & Co., wrote in an e-mail to clients. "We continue to expect a relatively flat stock market this year."
Paulsen sees the Standard & Poor's 500 Index ending the year at 2,050, almost unchanged from where it started, and compared with 2,152 for the average estimate of strategists tracked by Bloomberg. After starting 2016 projecting gains, they quickly scaled back their projections and haven't turned more bullish in the recent rebound. It's the same story in Europe, where they're now predict virtually no progress this year.
Even while shaving estimates, economists still forecast annual growth globally of more than 3 percent through 2018. And one glimmer of hope for American corporate profits: for the first time in eight months, the pace at which analysts are cutting their projections is slowing. JPMorgan Chase & Co.'s better-than-expected results Wednesday helped lift financial stocks across the world.
"This rally is the aftermath of the negativity bubble, the intense pessimism, in January and February," Julian Emanuel, executive director of U.S. equity and derivatives strategy at UBS Securities LLC in New York, said by phone. "Whether you look at stability in the dollar strength, stability in oil prices, it's pretty clear we're sowing the seed for a second-half pickup in the economy and earnings."
That doesn't change that skepticism is rampant. Federal Reserve Chair Janet Yellen has flagged the potential for risks to the global economy, and her comments on March 29 pushed back the likelihood of another interest-rate increase to December at the earliest. While prospects of continued central-bank support have helped prop up equities in the past, the MSCI All-Country World Index remains about 9 percent lower than its record last May.
At the same time, the recent stock rebound came as short covering in the U.S. reached levels not seen in two months. A Goldman Sachs Group Inc. gauge of the most-shorted companies in the Russell 3000 Index surged to its highest level of the year. Short interest on U.S. stocks averaged 4.2 percent of shares available as of March 31, 15 percent above the seven-year average, according to exchange data compiled by Bloomberg. The level touched 4.4 percent at the end of February, the highest since 2008.
"Markets are getting more comfortable adding risk but that doesn't mean there's a tremendous amount of upside," said Vincent Delisle, portfolio strategist at Scotia Capital Inc. in Montreal. "U.S. domestic outperformance seems to be over in the near term."
(
Updates with Thursday move in fifth paragraph.
)
Before it's here, it's on the Bloomberg Terminal.
LEARN MORE