Crescent Point Stepping Back Shows Deal Challenges in Oil Patch
By and
Most active buyer in Canadian industry turned off purchases

Mergers and acquisitions challenged by volatile prices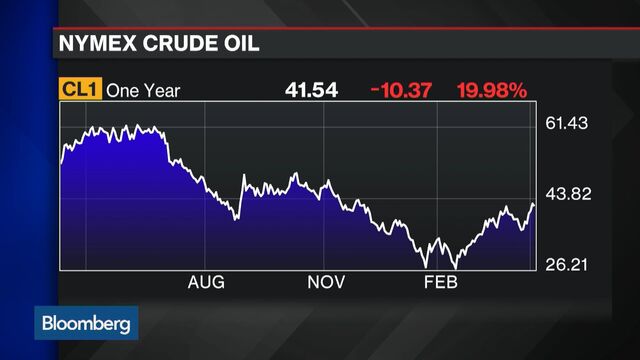 The most-active acquirer in Canada's oil patch during the last downturn is taking a step back this time around, in a sign of how tough it's been for struggling producers to find buyers for their assets.
Crescent Point Energy Corp. made five purchases totaling about $1 billion in the 12 months after oil's slide in July 2008, according to data compiled by Bloomberg. Now, the company is steering clear of acquisitions larger than C$200 million ($157 million), according to Chief Executive Officer Scott Saxberg. That includes assets being marketed by Husky Energy Inc. and Lightstream Resources Ltd., Saxberg said Tuesday in an interview at the CAPP Scotiabank Investment Symposium in Toronto.
"We're being patient in this environment to position ourselves for when the economics turn, and we're trying to stay within cash flow when we spend those acquisition dollars," Saxberg said. Crescent Point is avoiding producing assets in favor of cheaper land that it can develop, and it has focused on paying down debt rather than expanding output, he said. "You're not going to see us do a big equity funding to pay for a deal."
Bankers are struggling to line up buyers and sellers in the worst crude market slump in about 20 years. While mergers and acquisitions in Canada's oil and gas industry are starting to pick up, deals worth $9.34 billion in the first three months of 2016 are still down about 56 percent from their recent high in the third quarter of 2012, according to data compiled by Bloomberg.
Technology Revolution
Crescent Point has been the most prolific buyer of Canadian assets, having raked in 32 purchases in the last decade. Assets for sale today don't present the same opportunity for the company as the ones available in 2008, when the energy industry was on the cusp of a technology revolution thanks to horizontal drilling and hydraulic fracturing that unlocked vast supplies from shale formations, Saxberg said. Crescent Point, an expected bidder for Husky assets in Saskatchewan, is not planning to buy them, he said.
Husky, the Calgary-based producer controlled by Hong Kong billionaire Li Ka-Shing, is currently weighing bids on a number of producing lands it put up for sale across Western Canada. The packages attracted varied interest, Rob Symonds, Husky's senior vice president of Western Canada production, said Tuesday on a panel discussion at the conference. The 59,530 barrels of oil equivalent per day that Husky marketed was seen worth about C$2.1 billion, according to Morgan Stanley.
Evaluating Bids
"It's not a fire sale and we are certainly going to take whatever time is required to evaluate the deals and only make deals that are meeting the criteria," Symonds said. "Not all the bids were totally compliant with what we asked for, and we're working through those bids. It's early days."
Oil prices in New York that rallied last June to more than $60 a barrel triggered a wave of transactions on optimism the glut was clearing, David Baboneau, managing director at Scotia Waterous in Calgary, said Tuesday on a panel at the conference. Agreement between buyers and sellers on valuations then fell apart earlier this year when crude fell to a low of about $26 a barrel, he said.
"It's very difficult for a buyer and a seller to align when prices are dropping on a percentage basis significantly from day to day." Baboneau said. "A lot of acquirers will be more conservative on the leverage front."