Chipotle Urged to Shake Up Board in Wake of Food Crisis
by
Company should replace two directors, CtW Investment says

Chain is still reeling from outbreaks of E. coli, norovirus
An investment group is calling on Chipotle Mexican Grill Inc. to replace two directors, saying the company's all-white, mostly male board lacks diversity and isn't equipped to rebuild trust after several foodborne-illness outbreaks.
Chipotle also should establish a food-safety and sustainability board committee, recruit new and more diverse directors, and provide more meaningful proxy access to smaller stakeholders, said Dieter Waizenegger, executive director of CtW Investment Group, a firm affiliated with the union-backed group Change to Win. CtW also said shareholders shouldn't re-elect Patrick Flynn and Darlene Friedman, both long-time directors on the nominating and corporate-governance committee.
"With the company facing slowing momentum and potential growth challenges going forward, Chipotle is in need of genuinely independent oversight now more than ever," Waizenegger said in a letter sent to Chipotle shareholders. "Shareholders must intervene now."
Sales Plunge
Chipotle is still recovering from E. coli and norovirus outbreaks that occurred last year. The crisis hurt sales, sent customers to competitors and tarnished the company's image. Same-store sales -- a closely watched measure -- plummeted 26 percent in February. Chipotle's stock has tumbled 35 percent in the past year, erasing billions from its market value.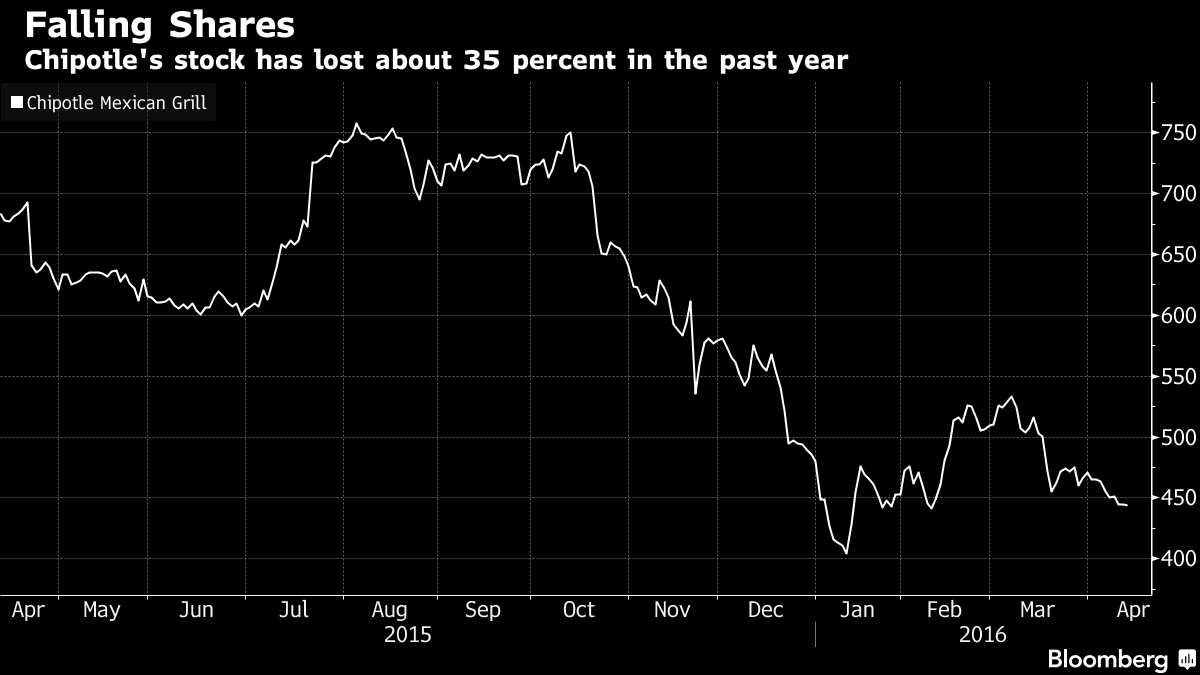 The company is scheduled to hold its annual meeting on May 11 in Denver, where it's based. Chipotle should "recruit several new directors that could bring fresh, objective expertise to the human capital and supply chain challenges," according to the CtW letter.
Chipotle didn't immediately respond to requests for a comment.
CtW scored a victory in 2014 when 77 percent of shareholders voted against Chipotle's executive compensation, prompting a review of how much the company pays top management. Chipotle changed its officer equity awards and vesting structure following the vote. CtW had encouraged shareholders to reject the pay packages, saying the executives were being treated like "Sun Kings."
CtW also has pushed for change at companies including Oracle Corp. and Bank of America Corp. Last year, the firm said Bank of America shareholders should force Chief Executive Officer Brian Moynihan to give up his chairman title -- so far, he hasn't. Oracle, however, changed its executive compensation plan after CtW's campaign.
Before it's here, it's on the Bloomberg Terminal.
LEARN MORE