BlackRock Sees Brazil Stock Rebound Coming That Fidelity Doubts
by
BlackRock's Landers says regime change may pave way for rally

Fidelity's Pruett sees `severe' underlying issues for economy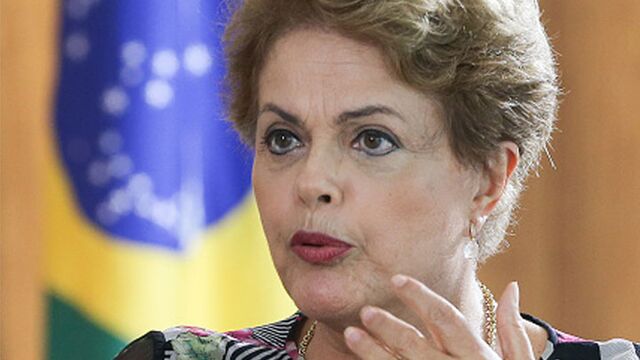 For the past five years, running a Latin American stock fund was pretty much the worst job on Wall Street, with losses exceeding 10 percent annually.
This year, the battered funds are enjoying a long-awaited rebound as Brazil's market rallies, but their managers are split over whether it will last and how to trade it. William Landers, whose $170 million BlackRock Latin America Fund rose 17 percent in 2016 through April 12, is among those betting that removing President Dilma Rousseff will lead to a better Brazilian business climate that sustains higher stock prices. Competitors including Fidelity Investments' Will Pruett see deeper economic woes that won't be easy to solve even if she is ousted.
"Brazil's underlying issues are structural and severe," Pruett, whose $495 million Fidelity Latin America Fund was up 13 percent this year, said in an interview. "It's not as if a change in regime will fix what is broken."

Brazil's stock market has gained more than 30 percent in U.S. dollars in 2016, boosted by rising commodity prices and the growing possibility that Rousseff will be impeached. Managers of U.S. mutual funds that focus on Latin American stocks have a lot riding on that rally because Brazil represents half of the category's main equity benchmark index.
It's the latest twist for a market that has been on a volatile ride for much of this century. From 2003 through 2007, Brazil's Ibovespa index soared more than 10-fold in dollar terms, powered by rising commodity prices, low inflation and a growing economy. The index fell 74 percent in the five years ended Dec. 31 as trends reversed and the nation suffered through corporate and political scandals.
Wild Ride
Landers, who has run BlackRock's fund since 2002, was there for it all. BlackRock Latin America returned more than 50 percent annually during the boom times, then fell 15 percent a year from 2011 through 2015, including a 30 percent drop last year.
"We are running a lot less money than we did," said Landers, 47. The fund's assets have tumbled more than 80 percent from the peak, according to data compiled by Bloomberg, and Landers oversees about $2 billion in total, down from a high of $11 billion.
He came into 2016 with a negative view of Brazil, but the increasing possibility of impeachment has changed his mind. He boosted his weightings of Brazilian stocks in the first quarter by about 5 percentage points and is now slightly over-weighted. His biggest Brazilian holdings as of Feb. 29, were Ambev SA, the beer giant, and Banco Bradesco SA.
A change in Brazil's leadership "is the only way we will get better policies that will help inflation come down and get us back to a period where the middle class expands again," Landers said.
Tide 'Out'
Rousseff, whose administration is under attack for allegedly taking out loans from state banks to cover up a budget deficit, calls the charges against her baseless and attempts to remove her a "coup against democracy." In a speech on Tuesday, she accused her vice president of attempting to illegally overthrow the government, underscoring the depths of the bitterness that are convulsing the country days before an impeachment vote.
A committee in Brazil's lower house voted in favor of impeachment early this week by a wider margin than originally forecast, setting the stage for a showdown when the full house convenes. The full lower house of Congress is expected to start voting as early as Friday whether to approve impeachment and send the motion to the Senate for consideration. If the Senate accepts the charges against Rousseff, she would have to step
down until a final ruling is made.
Economists expect conditions in Brazil to remain difficult this year. Consumer prices will rise 8.5 percent while output shrinks 3.6 percent, the average forecasts of more than 30 respondents in a Bloomberg survey.
Fidelity's Pruett remains cautious on Brazil. Pruett, whose 39 percent of assets in Brazilian equities as of Feb. 29 represented an under-weight position, said the country's stocks are expensive and its problems deep-seated.
"The tide has gone out on Brazil," said Pruett, who has run the fund since October. 
Predicting Politics
He is skeptical that the rally in commodity prices will continue or that the economy will significantly improve soon. Even if a new government emerges, he said, it could be years before more market-friendly policies on taxes, labor markets and pensions produces stronger growth.
"I don't think it is appropriate for investors to speculate on regime change," Pruett said.
Luiz Ribeiro, whose $246 million Deutsche Latin America Equity Fund was up 23 percent this year, agrees with Landers and others that a change in government could have a major impact on Brazil's fortunes. But, like Pruett, he isn't willing to bet on it.
The Deutsche Bank fund, which has beaten 95 percent of its peers over the past five years, is benefiting from its holdings of Brazilian stocks such as Itau Unibanco Holding SA, Latin America's largest bank by market value, and Raia Drogasil SA, a retail drugstore chain that has withstood a deepening recession.
Ribeiro, who has worked on the fund since 2013, had 52 percent of his assets in Brazil as of Feb. 29. That weighting is based on bottom-up stock picking, he said -- not an explicit wager on the country or impeachment.
Ribeiro described impeachment as a binary event, or one with two distinct outcomes. If the president leaves and new team comes in, Brazil's fortunes will brighten, he said. If she stays, confidence and economic growth will struggle to recover.
"It all depends on politics," said Ribeiro, "and that is difficult to predict."
Before it's here, it's on the Bloomberg Terminal.
LEARN MORE