Australian Leader Balances Trade Against Territory in China Trip
by
Prime Minister's first visit to focus on trade and security

Turnbull set to raise South China Sea tensions with Xi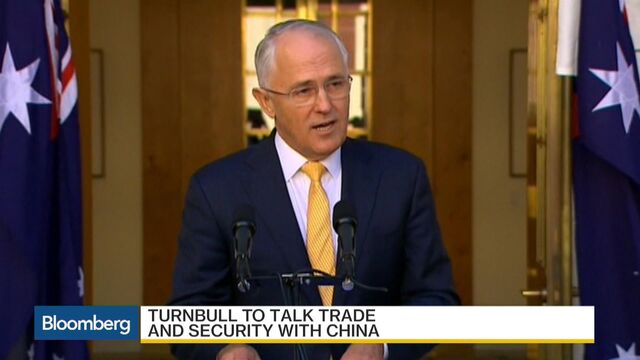 Malcolm Turnbull's first trip to China as prime minister is bringing into sharp relief the challenge of navigating ties with Australia's biggest trading partner against a backdrop of regional tensions over maritime territory.
Leading a delegation of 1,000 business leaders, the prime minister is using the two-day talks starting Thursday to sign several memorandums of understanding that have the potential to reassure China that Turnbull's government sees it as a country Australia can work with, and not just sell things to.
"The important thing is to be very honest, very open, very consistent" when dealing with Chinese leaders, Turnbull told a business audience in Perth on Wednesday. "That's how you're respected. We stand up for our position, the Chinese understand that and respect that."
While resources made up nearly half the A$150 billion ($115 billion) in Australian exports to China in 2014-2015, Turnbull will be keen to build on the completion of a free-trade pact with China last year. Trade Minister Steve Ciobo said on Wednesday that Australia is ready to diversify economic ties to focus more on expertise and innovation, particularly in areas including premium food and beverage products, as well as China's services sector.
Leader of one of the most China-dependent nations in the developed world, Turnbull's past comments on China's territorial ambitions are bound to come under the Communist Party's microscope during his visit, including when he meets President Xi Jinping.

China's claim to a large swath of the South China Sea is disputed by Southeast Asian nations including the Philippines, Malaysia and Vietnam, countries that have nevertheless enjoyed strong trade and business ties with Beijing. Australia, as a major U.S. ally in the Pacific and a critic of China's land reclamation in the waters, also faces a balancing act between economic and security matters.
"If Turnbull strongly articulates Australia's concerns, it will set a prominent example for Southeast Asian countries to follow," said Oh Ei Sun, an analyst at the S. Rajaratnam School of International Studies in Singapore.
Shortly after seizing power from Tony Abbott in a September ballot of ruling party lawmakers, Turnbull said tensions in the South China Sea were the greatest threat to global security. In a speech last month he said that ensuring China's rise doesn't cause destabilization "requires careful diplomacy, it requires balancing."
'Barely Touch'
Since Xi told the Australian parliament in November 2014 that it shouldn't be concerned about China, he has overseen a restructure of the Chinese military, boosted the capacity of its air force and bolstered its naval presence in the Asia-Pacific.
According to Peter Cai, a research fellow at the Lowy Institute for International Policy, Turnbull will probably only raise the issue behind closed doors. "Publicly he may barely touch on that while he's there, because the visit's primary focus is to promote Australia's business interests."
Shen Shishun, a senior researcher at the China Institute of International Studies, said China would expect Turnbull to raise the maritime tensions but added the leaders would understand his motives. 
'Well Understood'
"Australia relies on the United States on the security level, and China on the economic level," Shen said. "This two-leg mechanism is well understood among Chinese leaders."
Another concern for Turnbull ahead of general elections expected as soon as July will be to assuage domestic concerns that China is buying slices of Australian land and gaining access to infrastructure. Government data show China accounted for just over 4 percent of foreign investment at the end of 2014.
Still, Chinese purchases of Australian real estate almost doubled to A$24.3 billion ($18.4 billion) in the 12 months through June 2015, and Chinese investors are in talks to buy S. Kidman & Co., Australia's largest private landholder. Last year Australia allowed the leasing of Darwin's port to a Chinese firm with military ties despite U.S. concerns.

Ciobo said he did not believe Chinese investment in Australia would have an impact on the upcoming election.
"Ultimately Australia has been an importer of capital for more than 150 years," he said by phone. "Investment into Australia drives economic growth, it drives capacity building, it drives employment growth."
Ciobo also said Chinese investment in Australia was not a one-way-street. "The fact is that we see strong Australian investment into China."
In a speech in Shanghai on Thursday, Turnbull said his government was concentrating on expanding business ties beyond exporting resources to China.
"Demand for Australian resources, across this great nation of 1.4 billion people, has underpinned the greatest run of unbroken prosperity Australians have ever known," he said. "We have to work harder, much harder, to strengthen and expand these business links, as our economies continue to transition."
Both Turnbull's Liberal-National coalition and the Labor opposition realize foreign capital is vital to economic growth and the scale of Chinese investment is unlikely to be a major election issue, said Haydon Manning, a politics professor at Flinders University in Adelaide.
"There is a deep sense of economic nationalism among a vocal minority of the community but policy makers know that foreign investment is crucial in a geographically large nation which has rich resources but just 26 million people," Manning said.
Before it's here, it's on the Bloomberg Terminal.
LEARN MORE