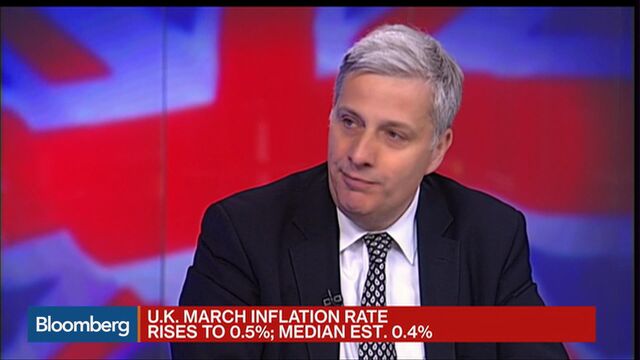 Inflation — remember that?
After languishing around zero for almost a year, there are signs that U.K. consumer-price growth is set to accelerate through the rest of the year. What's more, a measure that excludes volatile energy, alcohol, food and tobacco reached a 17-month high in March. 

The annual rate of inflation climbed to 0.5 percent in last month, a level not seen since December 2014, prompting Michael Saunders at Citigroup in London to say the U.K.'s "period of low-flation is ending."

While the March reading was higher than the 0.4 percent predicted in a Bloomberg survey, it remains well below the Bank of England's 2 percent target and was distorted by a spike in airfares because of the early Easter holidays. 
Still, the acceleration will give some comfort to economists, who predict the BOE's Monetary Policy Committee will begin rate increases early next year, and are at odds with investors who are betting a hike will come much later. 

Governor Mark Carney has said he's watching developments in core inflation, and wants to see them "consistent with a reasonable expectation that total CPI inflation will return to the target in around two years' time." 
"There is a general trend higher that appears to remain in place and we continue to expect inflation to gather pace over the year," said Phil Rush, an economist at Nomura in London. "As that CPI inflation rate moves closer to target, it should become more important for the MPC's judgment as to when it will begin raising interest rates."
Before it's here, it's on the Bloomberg Terminal.
LEARN MORE