Two Fed Officials Urge Caution on Timing of Next Rate Hike
by , , and
Fed ought to wait for higher inflation: Philadelphia's Harker

Dallas Fed's Kaplan says patience warranted until GDP improves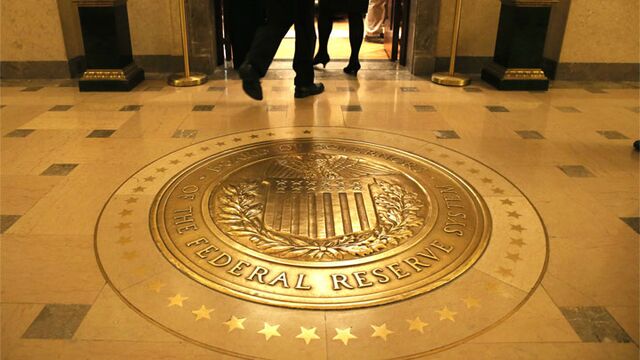 Two Federal Reserve officials argued for caution over the timing of the next interest-rate increase as a stronger dollar and weakness abroad hinder efforts to drive inflation higher, while a third policy maker said the case for a hike was clear.
Philadelphia Fed President Patrick Harker and Dallas Fed chief Robert Kaplan's remarks Tuesday echoed Chair Janet Yellen's call for a slow approach to policy tightening that has reinforced expectations that officials won't act when they meet on April 26-27. Richmond's Jeffrey Lacker later argued in favor of tightening, while San Francisco's John Williams said that two or three increases this year was a reasonable call.
The Federal Open Market Committee held the target range for its policy rate unchanged at 0.25 percent to 0.5 percent last month, citing risks from global economic and financial developments. Forecasts released at the March 15-16 meeting showed officials had halved the number of rate increases they expect this year, from four projected in December. Investors expect just one hike this year, based on pricing in interest-rate futures.
Harker told an audience in Philadelphia that while he viewed the U.S. economy as fundamentally healthy, persistently low inflation risks undermining the credibility of the central bank's 2 percent goal.
'Prudent to Wait'
"These considerations make me a bit more conservative in my approach to policy, at least in the very near term," he said. "Although I cannot give you a definitive path for how policy will evolve, it might prove prudent to wait until the inflation data are stronger before we undertake a second rate hike."
Kaplan told CNBC television in an interview earlier on Tuesday that the Fed had been correct to move in December, when it lifted its target for the benchmark federal funds rate for the first time in nearly a decade, but weak first-quarter growth meant it should take its time before acting again.
"The move in December I think was the right move, but I think we're going to have to be slow and patient," he said. That "doesn't mean standing still. And I think we'll make another move some time in the not-too-distant-future if GDP recovers in the way I expect."
Economists surveyed by Bloomberg expect growth in U.S. gross domestic product slowed to an annualized 1.2 percent rate in the first quarter compared with 1.4 percent in the previous three months. Some tracking estimates, which are more regularly updated with the release of major U.S. economic indicators, are less optimistic. The New York Fed's model projects 1.1 percent while the Atlanta Fed sees just 0.1 percent first-quarter growth.
The Commerce Department is scheduled to release GDP data for the January-March period on April 28.
Less Hawkish
Neither Kaplan nor Harker are FOMC voters this year. Their relatively moderate positions on policy contrast with the more hawkish posture of their predecessors, Richard Fisher in Dallas and Charles Plosser of Philadelphia, who both dissented in 2014 in favor of more restrictive policy.
Harker said FOMC meetings later this month and in June were both "live" for policy action. He had said on March 22 he expected more than two rate increases would be warranted this year, and he continued to argue that three moves could be needed, depending on the strength of U.S. economic data.
"I would say it's possible. We just need to let the data play out to see if the weakness that we saw in fourth-quarter GDP and first-quarter GDP are an aberration or a trend," he told reporters after his speech.
'Largely Reversed'
Lacker, in a speech in Wilmington, North Carolina, later played down the risk posed to the U.S. from financial market turmoil and weaker growth abroad, arguing that adverse financial developments at the start of the year have "largely reversed," and the inflation outlook "has firmed."
"Given the extent to which global risks to the United States have subsided, prudence suggests staying the course with a gradual sequence of rate increases," he said, noting that the dollar had declined since January and its dampening effects on U.S. growth "are plausibly behind us."
Before it's here, it's on the Bloomberg Terminal.
LEARN MORE