Tough Mudder Wants Asia's Weekend Warriors to Get Dirty Too
By
Obstacle series coming to China, Japan, Singapore, South Korea

Spartan Races and Ironman already stage competitions in Asia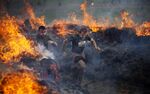 Tough Mudder is bringing its icy swims, electro-shock obstacle courses and barbed-wire crawls to Asia.
Together with WME/IMG, the New York-based company plans to launch its mud-spattered events in China and the United Arab Emirates later this year, Chief Executive Officer Will Dean said in an interview. In 2017, it'll add contests in Japan, Singapore and South Korea.
Tough Mudder is the latest fitness series to take aim at growing demand for endurance and athletic events in Asia. Gyms and fitness clubs were a $5.1 billion industry in China last year, according to an IBISWorld report, with average annual growth of 13.7 percent from 2010-2015. "China has a huge developing middle class, and a shift into health and wellness," Dean said. "The trends are all there."
So are some of Tough Mudder's biggest competitors. Spartan Race, a more competitive obstacle race, recently began staging events in Singapore and South Korea. Ironman triathlons, purchased last year by China's Dalian Wanda Group, just added two new races in the world's most populous country.
'Opportune Time'
Tough Mudder won't operate its Asian events but will license the name and format, following the model of its race last month in Mexico, which was run by Apodaca Entertainment Group. In addition to events in Asia with IMG, Tough Mudder is partnering with Jakarta-based Seroja Partners to bring an event to Indonesia.
"Tough Mudder is entering the Southeast Asian market at an opportune time as there is strong demand for this type of event but limited options are available," said Ridzki Syahputera, a partner at Seroja.
Privately held Tough Mudder had more than $100 million in revenue last year, Dean said, up from about $75 million in 2013. More than half the income comes from entry fees -- events typically cost participants from $130 to $185 -- but the company is hoping to earn more from sponsorship agreements, media deals and merchandise opportunities.
To that end, this year Tough Mudder will introduce a line of apparel in conjunction with Wolverine World Wide Inc.'s Merrell brand, which is the lead sponsor of the events. As part of a new partnership with Livestream, this week's competition in Los Angeles will stream live on Toughmudder.com. The company also added as sponsors Snapchat and Microsoft Corp., whose Band fitness tracker will feature prominently as the obstacle series creates more workout and training content.