The Rolling Stones and Dead Horses Expose Poland's New Elite
by , , and
Governing party installs own people from CEOs to bureaucrats

Stud-farm scandal symbolizes depth of changes since election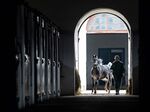 As Poland dismantles one elite and builds another, the five-month-old government has replaced scores of executives at state-owned companies and mid-ranking civil servants with party loyalists.
Few of the personnel changes, though, have come to symbolize what's turned into the biggest clear-out since the collapse of communism 27 years ago as the one at the Janow Podlaski Stud in the eastern countryside.
A scandal at the horse breeders has turned the spotlight on the Law & Justice party again after the European Union ordered a probe into Poland's democratic rule of law following earlier changes to the judiciary and national broadcaster. After the veteran director of the 6,000-acre state-run farm was replaced, two mares owned by the wife of Rolling Stones drummer Charlie Watts were found dead.
QuickTake Poland's Populist Turn
"This is the deepest change since 1989," said Kazimierz Kik, political scientist at Jan Kochanowski University in Kielce, southern Poland. "It fits the patterns in Europe: everywhere there's an awakening of resistance towards the neo-liberal mainstream. The essence of the change is to address frustration."
13 Chiefs 
Thirteen chief executive officers from the 14 government-controlled companies in Warsaw's WIG30 stock index have been replaced. They include Pawel Olechnowicz, the CEO of the country's second-biggest refiner Grupa Lotos SA who, was dismissed Wednesday. He had served as the company's boss for 14 years, surviving seven prime ministers.
The government scrapped the need for civil-service jobs to be open to competition and a rule prohibiting appointees from being affiliated to a political party. Contracts for as many as 1,600 people were automatically terminated 30 days after the changes took effect. So far, there have been about 200 dismissals, according to a report from the Polish news agency PAP.
Treasury Minister Dawid Jackiewicz said in a parliamentary debate last month that a key criterion for choosing Poland's new guard was "trust." He called recruitment processes by the previous government "hypocrisy and fiction."
Civic Platform, the party of EU President Donald Tusk that led Poland from 2007 until last year, built institutions free from the control of politicians, said spokesman Jan Grabiec. The current government highlights the divide between parts of Europe, he said.
"It's a difference between eastern culture based on the supremacy of power over procedures and western standards guided by rules and procedures," he said.
More Polish
Administrations in Poland and elsewhere in eastern Europe regularly parachute loyal executives into state-run companies and government agencies, yet the latest changes run deeper and are reverberating abroad.
European lawmakers ordered an investigation into political interference in independent bodies and Law & Justice's power grab triggered the country's first ever credit-rating downgrade by Standard & Poor's in January.
"Polish elites foolishly promote a cosmopolitan approach, that we should be more European than Polish, and this leads to a loss of self-worth," Senator Grzegorz Bierecki, one of the party's top economic advisers, said in an interview. "We badly need to exchange our elites," many of whom thrived through "oligarch-type" relations with politicians after communism, he said.
New Fish
The previous government oversaw 24 percent growth in the economy during its eight years in power while the EU as a whole stagnated, but Law & Justice won a landslide victory in October by convincing Poles that their country was in "ruins." It promised to stand up to Europe and share the fruits of the country's success with all citizens.
"We have long known who is a pike, who is a small fish and who is a minnow in our pond, where nothing has changed for years," Party leader Jaroslaw Kaczynski told Polska newspaper, an affiliate of The Times. "We want to shake up the waters and give a chance for the perches to become pikes, and the minnows to become perches."
Among the growing fish are a veteran lawmaker with no experience at a big firm picked for CEO of oil refiner PKN Orlen SA, Poland's largest company by sales. There's also a lawyer who lent Kaczynski 200,000 zloty ($53,500) -- disclosed in his financial statements -- who now sits on the supervisory board of PGE SA, the country's biggest power producer.
Dead Horses
And so the changes reached the Janow farm next to the border with Belarus.
Former manager Marek Trela, who spent the last four decades breeding Arabian horses, was fired in February. The government accused him of inadequate supervision over state assets. He was replaced by former banker and Law & Justice activist Marek Skomorowski, who said he'd never "worked closely" with the animals, but nonetheless promised it would "become my new passion."
Shirley Watts had been "under the impression" that the animals would be in the care of Trela, "a man who I greatly admire and trust," she said in an e-mail published by the Polsat television network. She decided to move two other mares "back to our farm in England at once."
Another horse died at the stud in October, and an investigation is underway into the cause of the latest deaths. Skomorowski resigned last week after Watts's outrage turned the farm into front-page news. Live television pictures on April 7 showed her horses being loaded onto a truck and driven out of Janow.
The government is currently recruiting someone else to run the complex. Agriculture Minister Krzysztof Jurgiel defended the appointment of Skomorowski, saying the manager had sufficient training while in university.
 
"He had four years of training in agriculture," Jurgiel told reporters on April 5. "I've had similar training that included horse-breeding and even milking cows during an internship. He could learn on the job."
Before it's here, it's on the Bloomberg Terminal.
LEARN MORE