Paris Youth Camp Out to Protest Hollande Plan for Jobs
by
`Up All Night' street movement sparks fear within government

Socialist goverment pledges EU500 million to quell protests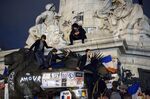 Youth demonstrations in Paris are never good for French presidents.
They brought General Charles de Gaulle's France to a standstill in May 1968, and have forced government retreats in 1986, 1994 and 2006. Now, President Francois Hollande faces his own youth protest movement dubbed "Nuit Debout," or "Up All Night."
Hundreds have camped out at Paris's Place de la Republique, demanding that the government abandon a bill to overhaul labor laws, adhering to a well-worn habit in which youngsters oppose free-market policies. For 12 nights now, a growing group of young people and anti-globalization demonstrators have gathered at the square, holding debates and concerts and eating from food trucks.
To appease the protesters, Prime Minister Manuel Valls offered 500 million euros ($570 million) annually to help young people, including an extension of grants for students and funds to tide students over between their studies and their first full-time job.
"This government is doing a lot for the youth, " Valls said Monday, after meeting some student leaders. "The movement of some groups of French youth is sending us a strong message on their fears of insecurity, of the labor market and the fear of living." 
The Socialist government has already watered down the labor bill, which was supposed to be have been Hollande's last major reform before the presidential vote in 2017. The bill was aimed, at least in part, at loosening labor rules to counter joblessness. France's difficult firing rules and high labor costs have been among reasons employers have been reluctant to hire. French youth unemployment stands at 24.7 percent, almost 10 percentage points above the average of the countries in the Organisation for Economic Co-operation and Development and more than three times the rate in neighboring Germany.

Spreading Protests


The youth protest movement has two distinct faces: The occupation by Nuit Debout and the student unions organizing demonstrations across France. Some of the student protests turned violent this weekend with demonstrators clashing with police. Authorities also arrested several people who left the Nuit Debout gathering on Saturday night to demonstrate a mile away outside Prime Minister Valls's private home. The Nuit Debout movement is being replicated in many major cities across France and had one-night showings in Brussels and Berlin.
The movement is turning into something of a catch-all for discontent in France. It claims to draw inspiration from a documentary called "Merci Patron!" -- or "Thank You Boss!," which traces the lives of former garment workers at LVMH Moet Hennessy Louis Vuitton whose jobs are moved to eastern Europe. The movie is a staple at Nuit Debout rallies and its theme song is frequently sung at Place de la Republique.
Recent French history has shown that leaders can't take youth movements lightly. In May 1968, a students uprising shook President de Gaulle's cabinet. The famed World War II leader stepped down a year later. A 2006 youth protest forced Prime Minister Dominique de Villepin to back down on a jobs plan for people under 26 years old. In 1994, Premier Edouard Balladur scrapped a bill aimed at putting youth wages at 80 percent of normal pay after a month of protests and in 1986 then-Prime Minister Jacques Chirac killed a plan to change university selection and fee rules after students took to the streets.
For Hollande and his cabinet, averting street confrontations is key. With barely a year before the 2017 presidential election, Hollande is taking Spain's political experience as a case study. The Indignados movement started in 2011 with young people occupying a square in central Madrid and went on to claim more than 20 percent of the vote in last year's election under the Podemos banner.
Unpopular President
Hollande, the most unpopular French leader since the current constitution was put in place in 1958, is contemplating running for re-election. For that, passing his labor bill and repairing damage with youth is critical. Still, 80 percent of French people say they don't want him -- or his predecessor Nicolas Sarkozy -- to run again, according to an Ifop poll published Sunday in the Journal du Dimanche newspaper. All of Hollande's predecessors have sought a second mandate except Georges Pompidou, who died in office.
Hollande's labor bill includes provisions to allow businesses to increase working hours with minimal compensation and without real support of unions, as well as changes to make it easier for companies to shed jobs while limiting severance pay. Taking aim at companies hiring young people on short-term contracts, the government is seeking to increase the tax on such practices, a move that has raised the ire of small-and-mid-sized businesses.
"The age-old recipes of the government are back," Francois Asselin, the head of CGPME, a small-businesses lobby, said in a statement, responding to measures unveiled by Valls on Monday. "The government doesn't hesitate at financially penalizing the majority of job creation, 80 of which is in the form of short-term contracts."
The lobby might consider boycotting debates on the bill, he said. For its part, The Nuit Debout movement is not ready to call it a night yet. Additionally, labor unions and student organizations are calling for more protests at the end of the month.
"All the disagreements have not been lifted," William Martinet, the head of a student group UNEF, said after the meeting with Valls, according to Agence France-Presse. 
Before it's here, it's on the Bloomberg Terminal.
LEARN MORE