Nomura Said to Retrench in Equities as Nagai Drops Expansion
by
Pullback in Europe and Americas could lead to 1,000 job cuts

Shares rise; Japanese firm last made profit abroad in 2010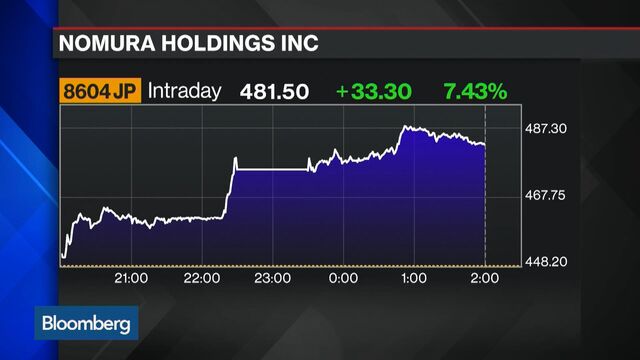 As recently as December, Nomura Holdings Inc. Chief Executive Officer Koji Nagai was making acquisitions and talking about hiring senior bankers in the U.S. Then came a first quarter investment banks will want to forget about.
As markets gyrated and negative interest rates crimped earnings, Nagai was forced to reverse course sharply. Nomura, Japan's largest securities firm, is largely exiting European equity operations, a move that combined with reductions in North America could affect about 1,000 jobs, people with knowledge of the matter said on Tuesday.

Nagai's U-turn follows years of stop-start expansions abroad by Nomura and shows just how much pain rocky markets and stricter regulations have heaped on investment banks. Companies from Credit Suisse Group AG to Barclays Plc are cutting jobs or exiting some areas outright as the need to preserve capital forces CEOs to re-examine which businesses they can remain in.
"The greater trend here is that banks are consolidating back to their home markets where they are stronger and have greater presence," said Jonathan Chng, a senior analyst at East & Partners in Singapore. "Post Lehman crisis, banks expanded their operations like wildfire. Now, amidst increasing stringent regulations on the finance industry, they need to plan carefully their next step."
Shares Rise
Nomura will shutter equity research, sales and underwriting for European stocks, according to one of the people. The firm said in a statement on Tuesday that it will close certain businesses in Europe and "rationalize" parts of its operations in the Americas. The Tokyo-based company will provide more details on the changes when it reports earnings April 27, it said.
Shares of Nomura, which lost a third of their value this year through Monday, rallied 7.4 percent in Tokyo on Tuesday, the most in almost two months.
"Investors take it positively that the bank is focusing on Asia and narrowing down its businesses in Europe and the U.S.," said Naoki Fujiwara, chief fund manager at Shinkin Asset Management Co. in Tokyo.
Nagai's retrenchment comes almost eight years after Nomura bought Lehman Brothers Holdings Inc.'s operations in Europe and Asia. The bank's European unit has been the biggest loss-maker since the company last eked out a pretax profit abroad, in 2010.
The bank hopes that the international brokerage will make a profit in this financial year after the cutbacks, people with knowledge of the matter said.

"Since the second half of last year, global markets have experienced extreme volatility and a significant decline in liquidity, triggered by heightened uncertainty in the global economy," the Japanese firm said. 
The company will continue to provide equity execution services for European stocks through its Instinet platform, one of the people said. Nomura will remain committed to its "core client offerings" in the Americas, and its platform in the Asia-Pacific region won't be affected by the changes, it said in the statement.
Nomura will keep about 200 staff on the continent working on non-European equities, according to two people familiar with the matter. They'll focus on trading products including Asian equities with European clients, the people said.
Postponed Goal
Nomura had 3,433 employees in Europe and 2,501 in the Americas as of Dec. 31. Nagai in February postponed a goal to earn 50 billion yen ($462 million) of pretax profit abroad. The firm may dismiss about 20 percent of its workforce in North America, people with knowledge of the situation said last month.
Nomura reported a 50.6 billion yen pretax loss at its European operations for the nine months to Dec. 31. Its ranking for underwriting equity offerings in Europe dropped to 50th so far this year from 19th for all of 2015, according to data compiled by Bloomberg.
The company's equities business in Europe is part of its global markets division, which also handles fixed-income sales and trading. It also has investment banking and asset-management operations in the region. The Japanese firm cut about 60 fixed-income and credit-derivative positions in London last year, a person familiar with the situation said at the time.
'Still Potential'
In December, Nagai said there was "still potential for growth in the Americas" and that the firm is seeking to double investment-banking revenue there over the next two to three years. His firm agreed that month to pay about $1 billion for a 41 percent stake in U.S. money manager American Century Investments, its biggest overseas investment since 2007.
The pullback abroad puts an even bigger onus on Nomura's domestic business to propel profits, a task that is getting tougher as the Japanese economy slows and investors lose confidence in Prime Minister Shinzo Abe's ability to deliver a sustained recovery. Net income probably fell 19 percent to 181 billion yen in the year ended March, the lowest in four years, according to analyst estimates compiled by Bloomberg.
"The strategy cuts both ways," Fujiwara said. "They can't blindly expand overseas but they need to look for opportunities there because the Japanese population is shrinking."
Before it's here, it's on the Bloomberg Terminal.
LEARN MORE