Nomura Planning to Withdraw From European Equity Business
by
Japanese firm confirms it will cut some businesses in region

Nomura operations overseas have been unprofitable since 2010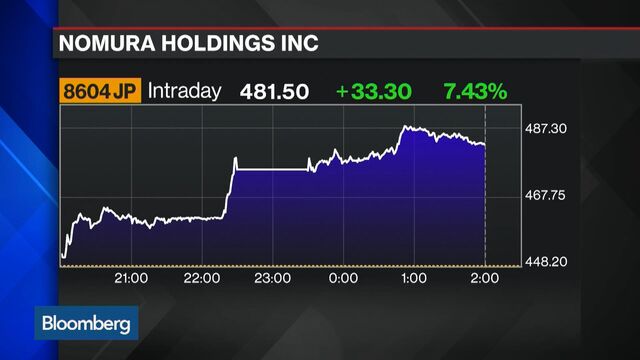 Nomura Holdings Inc., Japan's largest brokerage, plans to shut down its European equity operations as it cuts costs after years of failing to become profitable overseas, a person with knowledge of the matter said.
The Tokyo-based securities firm will shutter equity research, sales, trading and underwriting for European stocks, according to the person, who asked not to be identified discussing private information. Combined with reductions in North America, the move could affect about 1,000 jobs, another person said. Nomura confirmed that it will close certain businesses in Europe and "rationalize" parts of its operations in the Americas. It said it will provide details of the changes when it reports earnings on April 27.
"Since the second half of last year, global markets have experienced extreme volatility and a significant decline in liquidity, triggered by heightened uncertainty in the global economy," the Japanese firm said in a statement Tuesday. 
Nomura, which had 3,433 employees in Europe and 2,501 in the Americas as of Dec. 31, has been considering overhauling its overseas businesses since Chief Executive Officer Koji Nagai in February postponed a goal to earn 50 billion yen ($462 million) of pretax profit abroad. Nomura may dismiss about 20 percent of its workforce in North America, people with knowledge of the situation said last month.
Shares Rise
Shares of Nomura surged 7.4 percent at the close of trading in Tokyo, the most in almost two months, after Bloomberg News reported the move. That pared this year's decline to 29 percent.
Global investment banks including Credit Suisse Group AG are cutting thousands of jobs as market volatility and low interest rates curb trading. Wall Street firms are poised to post lower revenue from trading and dealmaking for the first quarter of 2016.
Nagai, who became CEO in August 2012, has grown more bearish about prospects for the company's overseas business in recent months. The firm will cut costs overseas by trimming jobs and shrinking unproductive operations, he said in an interview in February. Global market turmoil has affected overseas wholesale business and made it difficult to predict when the company could return to profit abroad, he said.

The company will continue to provide equity execution services for European stocks through its Instinet platform, according to the person with knowledge of the matter. Nomura will remain committed to its "core client offerings" in the Americas, and its platform in the Asia-Pacific region won't be affected by the changes, it said in the statement.
"This exercise will deliver significant efficiencies and cost savings for Nomura, refocusing the firm's activities and reallocating resources towards its areas of expertise and most profitable business lines," Chief Operating Officer Tetsu Ozaki said.
Nomura reported a 50.6 billion yen pretax loss at its European operations for the nine months to Dec. 31. The brokerage last posted an annual profit outside of Japan in the year ended March 2010. Its ranking for underwriting equity offerings in Europe dropped to 50th this year from 19th for all of 2015, according to data compiled by Bloomberg.
The company's equities business in Europe is part of its global markets division, which also handles fixed-income sales and trading. It also has investment banking and asset-management operations in the region. The Japanese firm cut about 60 fixed-income and credit-derivative positions in London last year, a person familiar with the situation said at the time.
Lehman Legacy
Nomura has gone through a series of expansions and contractions outside of Japan over the years. It bought bankrupt Lehman Brothers Holdings Inc.'s European and Asian operations in 2008, only to pare back operations in the regions later, after costs and losses swelled.
As recently as December, Nagai said there was "still potential for growth in the Americas" and that the firm is seeking to double investment-banking revenue there over the next two to three years.
Before it's here, it's on the Bloomberg Terminal.
LEARN MORE