How a Japanese Pinball Maker Helped the FBI Crack the San Bernardino iPhone
By , , and
Japanese parent company sees forensics business booming

Company looks to acquire other data extraction companies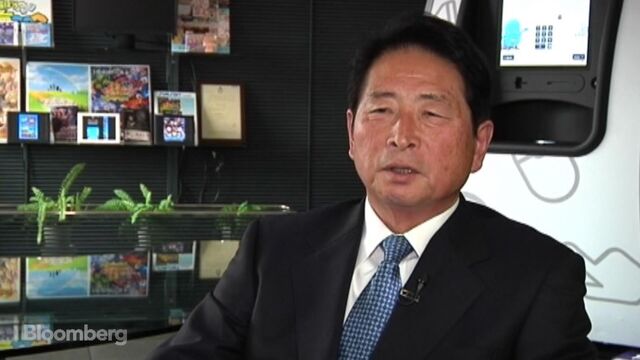 The hackers at Cellebrite Mobile Synchronization Ltd., the forensics unit of a little-known Japanese pinball company, are fast becoming the go-to guys when law enforcement needs to unlock smartphones. Its group chief has plans to keep the firm on the frontlines against terrorism.
In his first interview since Sun Corp. was thrust into the spotlight in the legal tussle between Apple Inc. and U.S. law enforcement over the hacking of an iPhone, Chief Executive Officer Masanori Yamaguchi says his company wants to expand its work countering tech-savvy terrorists. Yamaguchi says he's willing to spend as much as 20 billion yen ($183 million) to acquire or merge with companies to expand its sought-after data extraction business.
"Demand will never go away," Yamaguchi, 67, said from the company's headquarters in Aichi prefecture southwest of Tokyo. "Extracting mobile phone data is the fastest way to solve crimes nowadays."
Sun's shares soared 17 percent, the exchange-imposed limit, in Tokyo trading Wednesday. The shares surged after Sun confirmed Cellebrite's agreement to provide additional support to Interpol's global efforts to fight cybercrime.
Interpol Agreement
Petah Tikva, Israel-based Cellebrite is said to have worked with the Federal Bureau of Investigation to crack an iPhone connected with the San Bernardino, California terrorist attack in December and the company also helped authorities access devices used by assailants in the Paris shootings last year, according to people familiar with the matter.
Aside from the FBI, Cellebrite now has a client list that includes some of the world's most secretive spy organizations, such as the U.S. Central Intelligence Agency and Interpol, according to the people, who asked to not be identified because the information is private. Interpol signed an agreement with Cellebrite Tuesday in which the company will provide a unit of the international police organization with digital forensic equipment and training services over a three-year period.
Sun is intent on growing its business, said Yamaguchi. Demand for the mobile forensics services of Cellebrite will grow as much as 20 percent annually in revenue, he said.
Unique Technology
"There are very few companies like us, and I think this is our strength," Yamaguchi said. "As for the next step, we're open to the idea of teaming up with companies that possess unique technology in forensics. We will continue to search for an appropriate partner."
The sensitivity of the technology, and the edge it provides to law enforcement, means companies and government agencies are reluctant to discuss methods of data extraction. Sun declined to release names of cases or clients, while the FBI, which said a third party had demonstrated a way to get into the iPhone connected to the San Bernardino shootings, has also not disclosed its partner.
The CIA and the office of the Paris prosecutor in charge of the investigation into last year's attacks there declined to comment. Interpol said it couldn't confirm whether Cellebrite aided in hacking phones used in the Paris shootings as law enforcement in that city handled the investigation.

Sun's shares had surged after March 21 when the FBI said a third party had demonstrated a way to get into the iPhone. The stock rose 17 percent to 1,049 yen by the close of trading in Tokyo on Wednesday, reaching its highest level since March 31.
The company, which employed 40 workers when Sun acquired it in 2007, has grown to become a 500-person firm with nine offices on four continents focusing on work to extract data, decode and analyze Apple devices, including iPods, iPads, and iPhones. Its technology can also be performed on locked Apple devices with simple or complex passcodes, and can also be used to recover deleted data, according to the company's website.
Acquisition Targets
Sun is looking for targets with expertise in unlocking data on personal computers, Yamaguchi said. The company could issue and sell as many as 2 million new shares, about 10 percent of existing shares, to raise funds within two years, he said. The proceeds, about 1.8 billion yen at Tuesday's share price, would be used to build the company's forensics business as well as augmented reality and machine-to-machine communications, he said.
"We've had unexpected feedback," he said. "Although we appreciate attention being paid to our company, we must focus on our business and make every effort to improve our services."
Sun has been building components for pinball-like game machines found in Japan's pachinko parlors since the 1970s, and moved on to developing personal computers, video games and more recently, iPhone mahjong apps. In 2007, as sales slumped, Sun acquired Cellebrite for a reported $17.5 million. It hadn't ventured into forensics at the time, and later expanded its customer base beyond mobile phone retailers to police and law enforcement authorities throughout the world, said Yamaguchi.
Revenue from Sun's mobile data solutions division overtook pachinko parts in the fiscal year ended March 2014 and contributed 13.6 billion yen or 50 percent of sales in fiscal year ended March 2015, according to data compiled by Bloomberg. The bulk of Sun's mobile data solutions business comes from Cellebrite, company spokesman Hidefumi Sugaya said March 31.

Cellebrite's website is full of kudos from police forces around the globe crediting its technology for facilitating investigations. On the Cellebrite website, the Providence, Rhode Island police department, for example, says the company helped it solve the 2014 gang-related murder of a 12-year-old girl and three other women at a graduation party.
Transparency Market Research, a global market intelligence company, forecast in March that increasing terrorist attacks and crime will push the digital forensics market to 13 percent annual growth to $4.97 billion by 2021.
Cellebrite has emerged as a leading player in the security privacy industry, said Richard Overill, a senior lecturer in computer science at King's College in London who has studied the sector since 1992. Yamaguchi says the company commands a 55 percent market share of the U.S. forensics market.
More Effort
"The general opinion is that Cellebrite's digital forensics products for mobile devices are leading edge state-of-the-art," said Overill. "They have put more effort, experience and expertise into studying the potentially exploitable vulnerabilities in these systems than other companies, and as a result have been able to produce superior products."
Sales in Sun's mobile data solution business is expected to expand 10 percent to 20 percent annually in the coming years, as demand for Cellebrite's devices and services are likely to increase, especially in China and India, Yamaguchi said.
"We've been cutting weight of pachinko-related business while becoming increasingly reliant on Cellebrite," said Yamaguchi. "We want to keep improving our technology to provide better services and skills to make the world safe and peaceful."