Italy's Renzi Wins Vote to Weaken Senate, Faces Referendum
by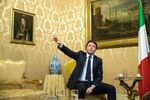 Italian Prime Minister Matteo Renzi won a last parliamentary vote to curtail the powers of the Roman Senate on Tuesday, a measure which will be the subject of a referendum expected in October.
The lower house voted by 361 votes to 7 for what Renzi has called "the mother of all reforms" of his mandate as prime minister, aimed at ending revolving-door governments.
Renzi said he will consult Italian voters in a referendum expected to be held in October, and that he will step down if the measure is rejected. The reform would reduce the number of senators to 100 from 315 and limit the possibility of bringing down governments.
Before it's here, it's on the Bloomberg Terminal.
LEARN MORE