Brazil's Impeachment Showdown Is Unfolding Unlike Any Other
by
Last time was in 1992 but president didn't have strong party

Political paralysis may end -- or it may get much worse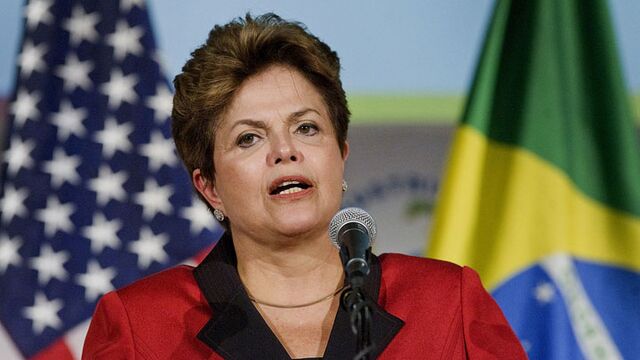 More than a year after Brazilians began calling on Congress to impeach President Dilma Rousseff, consensus has built around the need to move forward. But agreement ends there. Her Workers' Party wants to beat back those hoping to take away their election-day victory; her opponents are trying to oust her. The clash, due in the coming days, has brought security forces into the streets and could push the nation beyond stalemate -- or paralyze it further.
The result of the vote remains unpredictable because the forces lined up against Rousseff, including business, media and Facebook groups, are largely fragmented while those backing her are entrenched with a strong base but weakened by an assault in the courts and on the streets. A committee of Brazil's lower house voted late Monday to recommend impeachment, and a vote could reach the floor within a week.

"There's a wave of anger against the Workers' Party because the system changed the party more than the party successfully changed the system," said David Samuels, political science professor at University of Minnesota. "But the left isn't dead."
For a quick guide to how impeachment would work, click here.
This will not be Brazil's first impeachment face-off. In 1992, Fernando Collor was ousted with relative ease. But he had no party backing and faced corruption charges. While Brazil's biggest-ever corruption probe has fueled protests against Rousseff, she has not been accused of graft-- unlike many who will decide her fate. The head of the lower house, Eduardo Cunha, while leading the push to topple Rousseff for her handling of fiscal accounts, faces a case in the Supreme Court for involvement in a kickback scheme linked to oil drill ships. He denies wrongdoing.
Carwash
QuickTake Brazil's Ups and Downs
The politician waiting to take Rousseff's place represents a party with members that have also been cited in the so-called Carwash investigation. Sixty percent of Brazilians say they want Rousseff gone and the same percentage favor the resignation of Michel Temer, her vice president from the scandal-prone centrist PMDB party, according to a poll by Datafolha. Temer has denied wrongdoing. A Supreme Court judge ordered congress to start impeachment proceedings against him on Tuesday for fiscal mismanagement.
"There's a lot of uncertainty over what the day after would look like," said Alberto Ramos, a Goldman Sachs economist. "You may reboot and there's still a glitch, but at least there's some hope the friction will die down."
It is the behemoth of an ex-president -- Luiz Inacio Lula da Silva -- and his party machinery lurking in the background that make the process so hard to predict. The poll by Datafolha shows that while most Brazilians disapprove of Lula, himself tainted by the scandal, 37 percent think he's the best president ever. He leads an early poll for a 2018 presidential vote.
Collor not only lacked such backing. He used radical anti-inflation measures such as freezing of savings accounts, further deepening his rejection. The lower house ousted him 441 to 38, and he resigned after his trial in the senate.
Highly-Paid Speeches
Lula, who began chemotherapy months after stepping down, has been giving highly-paid speeches for Brazilian businesses abroad. Just how close he was with the construction giants allegedly conspired the bulk of those engagements and gave millions to his institute is one of the questions drawing him back onto the political stage to defend his party and legacy.

A month ago, police questioned him about suspected gifts from construction conglomerates that conspired to funnel billions from the state oil company Petrobras. Prosecutors want to charge him with hiding his ownership of a beach apartment. Rousseff tried naming him chief of staff, which removed his case from the judge who has jailed suspects in the massive corruption probe. A Supreme Court judge blocked the appointment for now.
Lula has come out swinging. In Sao Paulo he brought out more than 100,000 demonstrators. At a rally with union leaders, he attacked the billionaire-owned Globo empire that has focused on his links to the investigation and offered favorable coverage of pro-impeachment marches. He accused the judge overseeing the corruption investigation with deepening the economic slowdown and relying on targeted leaks to keep the momentum going in the probe. To remove Rousseff over her fiscal maneuvers, he said, would amount to a "coup."
"Dilma is being accused by people that already face charges, and there are no charges filed against her," Lula said in an interview posted by journalist Glenn Greenwald on Monday.
Raspier Voice, Whiter Hair
A throat cancer survivor at 70, Lula has a raspier voice and whiter hair. But he appears unbowed. He toured the impoverished northeast this month to tap into his base.

A different force is building on social media and around Sao Paulo's financial and cultural heart. Every time talk of impeachment goes up, so does the market. At Fiesp, a powerful business grouping, there are three dozen tents lined up on the sidewalk, a sort of occupy movement by those who benefited least from the Workers' Party's transformation that lifted 40 million Brazilians into the middle class. Its executives were upset when taxes on commerce were raised during a downturn, so they led a campaign, distributing yellow ducks as a symbol against tax hikes. Fiesp's skyscraper has become a rallying point, lit up with a neon message 25 stories high: "Resign now."
The battle for impeachment is also fought online, by groups like Vem Pra Rua with 1.2 million Facebook followers after helping organize mass protests over the past year. Its founders include a former hedge fund manager and an executive whose Dartmouth MBA was funded by Brazil's richest man, Jorge Paulo Lemann, and his partners. Other Facebook leaders include Revoltados Online, with videos featuring famous musicians, and the libertarian Movimento Brasil Livre, whose leaders include a 20-year-old newspaper columnist. The groups have taken pains to distance themselves from a faction calling for old-school military intervention to unseat Rousseff.
Many lawmakers are undecided. Among them until recently was Paulo Maluf, a controversial ex-mayor and governor of Sao Paulo who has been sentenced on corruption charges in France and Jersey, but not in Brazil and has denied wrongdoing. He faces a Supreme Court investigation on whether his campaign took illegal financing. On Twitter last week, he announced his plan to vote for impeachment, citing reports that Rousseff's party offered his party a cabinet spot in exchange for votes against impeachment.
"I am against the shady deals the government is doing with legislators," Maluf said. "I won and lost many disputes, but always in a democratic and transparent way."
Maluf and 37 other committee members recommended impeachment on Monday, versus 27 votes against. The vote could reach the floor as early as Sunday followed by a trial in the senate. Outside the congress building in Brasilia, prisoners overseen by security forces quickly built a wall to separate groups expected to gather ahead of the vote both for and against Rousseff's ouster. Some are already calling it Brazil's impeachment wall.
Before it's here, it's on the Bloomberg Terminal.
LEARN MORE