Bezos Using Amazon as Guide to Bring Rocket Rides to Masses
by
Amazon founder gives first address at Space Symposium

Bezos's Blue Origin aims to compete with Musk's SpaceX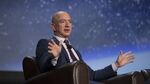 Commercial space exploration can advance at the fast pace of Internet commerce only if the cost is reduced through advances in reusable rockets, Amazon.com Inc. Chief Executive Officer Jeff Bezos said.
The e-commerce pioneer drew comparisons between the growth of his online retail business over the past 20 years and his investments in space exploration with his company Blue Origin LLC.
Amazon grew so quickly because key infrastructure was already in place, such as delivery through the postal service, phone lines for Internet access and credit card payments. The missing piece for space travel is low-cost launches, which will only happen when rockets can be reused like airplanes, Bezos said Tuesday in his first address at the annual Space Symposium in Colorado Springs, Colorado.
"What's important to me is lowering the cost of getting to space," he said. "I want to see millions of people living and working in space."
Beyond Tourism
Blue Origin has successfully launched and landed the same rocket three times as it seeks to challenge billionaire Elon Musk's Space Exploration Technologies Corp. Musk has dismissed some of Bezos's accomplishments as old news. The annual space symposium, which draws thousands of worldwide enthusiasts, gave Bezos a chance to highlight his accomplishments and emphasize that Blue Origin's mission is to become more than a space tourism company.
Bezos and Musk are not the only billionaires attracted to space exploration. Yuri Milner, the Russian investor who has backed various space ventures, said Tuesday at an event in New York that he would give $100 million to Breakthrough Starshot, a research project that will try to develop tiny, unmanned spaceships to search the universe for intelligent life over the next decade.
Beyond its rocket program, Blue Origin is joining with United Launch Alliance to create a domestically built BE-4 engine capable of launching rockets by 2019, highlighting its position as a contender in the commercial space race, said Paul Kostek, a systems engineer with GE Aviation.
"This project will expand their reach from just a niche tourism company to major player in future system development," Kostek said. "Success is success and this shows they have become a major engineering and manufacturing company."
Reusable Rockets
Bezos and Musk envision a future where space travel is frequent and colonization possible. Their companies are trying to reduce the cost of space travel by making rockets reusable and they are conducting test launches more frequently. SpaceX rockets are bigger and can be used to deliver people, supplies and equipment to space. Blue Origin rockets are smaller and would be used to bring tourists to the edge of space for a few minutes of weightlessness.
Rocket companies can get business from the National Aeronautics and Space Administration to take people, equipment and supplies into space. Satellite companies also need rockets to get communications equipment into orbit. SpaceX plans to fly 18 missions into space this year, triple the number of 2015.
While some have played up the rivalry between SpaceX and Blue Origin, Bezos said he didn't see the companies' efforts in the space business as a competition with winners and losers.
"There can be many winners," Bezos said. "The more the merrier."
Blue Origin hit a milestone last year by launching and landing its New Shepard rocket, which it repeated earlier this month. Musk had his own achievement last Friday when a SpaceX Falcon 9 rocket landed upright on a drone ship floating in the Atlantic, something that had been attempted previously without success. The rocket and Dragon spacecraft delivered supplies to the International Space Station. Musk said SpaceX plans to relaunch the rocket in June.
Before it's here, it's on the Bloomberg Terminal.
LEARN MORE