Valeant Gets Default Notice From Creditors After 10-K Delay
by , , and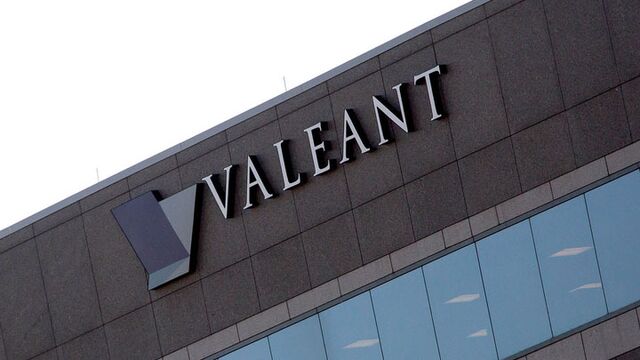 Less than a week after getting a waiver from its most senior lenders Valeant Pharmaceuticals International Inc. is now facing pressure from its bondholders to file its delayed financials.
Valeant said Tuesday it received a notice of default from some bondholders. Centerbridge Partners, the investment firm founded by Mark Gallogly and Jeffrey Aronson, notified the company of its intent to issue a notice of default, a person with knowledge of the matter said earlier Tuesday. The money manager owns more than 25 percent of the drugmaker's $1 billion of 5.5 percent bonds that mature in 2023, said the person who asked not to be identified because the information isn't public.
The notice started the clock on a 60-day grace period, after which creditors can demand immediate repayment if the company hasn't filed its financial statements.
Valeant breached a provision under its bond indenture when it failed to file a 10-K in March. The breach triggered a cross default on the company's loans. Valeant got permission from loan investors last week to waive the default and extend the deadline for filing its 10-K and first-quarter report, but it didn't extend the filing deadline under its agreement with bondholders.
"The notice of default does not result in the acceleration of any of the company's indebtedness," the company said in a statement Tuesday. Valeant reiterated that it's on schedule to file its 10-K on or before April 29.
Madisen Obiedo, a representative for Centerbridge, didn't immediately comment.
Bond Prices
The company's 2023 bonds dropped as low as 75.75 cents on the dollar in March and have since climbed to about 82 cents, according to Trace, the bond-price reporting system of the Financial Industry Regulatory Authority.
The notice from the bondholders is the latest chapter in Valeant's struggle with souring sentiment in credit markets, a slumping earnings forecast, lingering concerns over its financial statements and the hunt for a new chief executive officer. The company's outgoing CEO Michael Pearson built the company into a drug-industry juggernaut in a matter of a few years through a series of debt-funded acquisitions, leaving Valeant saddled with more than $31 billion of debt.
Earlier today the company was accused by Maryland Representative Elijah Cummings of "withholding" information on its relationship with a mail-order pharmacy, Philidor Rx Services, that a congressional committee has requested as part of its investigation into the drugmaker's pricing methods.
Before it's here, it's on the Bloomberg Terminal.
LEARN MORE