Brazil Stock ETFs Rise as Rousseff Pushed Step Closer to Ouster
by
Special committee in lower house approves impeaching president

Ibovespa world's second-best performance since January trough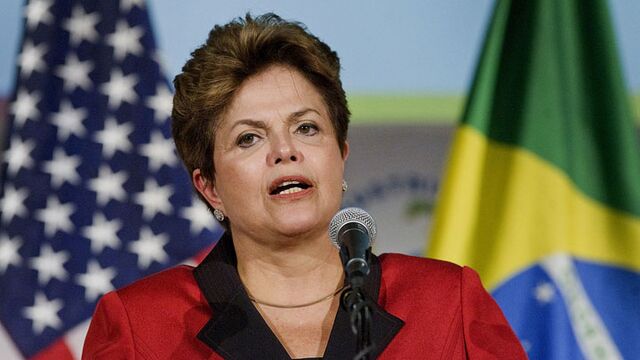 Gains in off-shore trading signaled Brazilian stocks will rally after a committee in the lower house approved the removal of President Dilma Rousseff, sending her a step closer to impeachment.
The Lyxor ETF Brazil rose 2.3 percent in Paris and an exchange-traded fund of Brazilian stocks in Tokyo jumped 4.1 percent. The premium investors demand to own the country's debt over Treasuries narrowed four basis points to 430, according to JPMorgan Chase & Co. indexes.
A new special lower house committee on Monday night voted 38 in favor and 27 against to recommend impeachment proceed on allegations that Rousseff bypassed Congress to illegally finance a budget deficit. Brazil's bonds have handed investors the best returns in emerging markets this year and stocks have climbed 34 percent from a low in January amid optimism a new government will be better able to bolster the economy.
"An awful lot of good news is being priced into the market," said Paul McNamara, who oversees $4.5 billion in emerging-market debt, including Brazil's local-currency bonds, at GAM UK in London. "There is an expectation that this will get through the committee stage, although the politics remains capable of generating huge volatility in both directions."
The ballot sets the stage for a showdown when lawmakers vote on the floor of the lower house as early as Sunday. The opposition still lacks the two-thirds majority needed for impeachment to pass in the lower house and advance to the Senate, according to some surveys.
Before it's here, it's on the Bloomberg Terminal.
LEARN MORE