Rousseff Accuses Brazil's Vice President of Coup and Treason
by and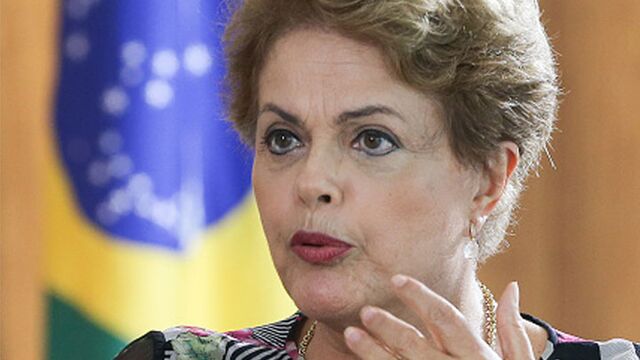 Brazil's President Dilma Rousseff accused her vice president of attempting to illegally overthrow the government, underscoring the depths of the bitterness that are convulsing the country days before an impeachment vote.
Without naming him directly, Rousseff said in a speech on Tuesday that Vice President Michel Temer was guilty of a "betrayal of me and of democracy." The comments came a day after the media published a recording where the vice president discussed the outlines of a Temer administration in the event she loses the impeachment vote.
QuickTake Brazil's Highs and Lows
"A statement was distributed in which one of the chiefs of the conspiracy pretends to be president of the republic," Rousseff said in reference to Temer. "There can no longer be any doubt of my claims that there is a coup under way."
Rousseff's strongest comments yet in the country's devastating political crisis show just how deeply divided the nation and its political leadership have become. A day after a special congressional committee agreed to move ahead with her impeachment, Rousseff, a former guerrilla fighter who has pledged never to resign, laid bare simmering tensions with her vice president, whose party abandoned her coalition last month.
The leak of Temer's comments came hours before the congressional committee agreed by 38 votes against 27 to back the request to impeach the president. Other signs emerged Tuesday that momentum was growing for Rousseff's ouster, as newspaper Folha de Sao Paulo reported her biggest coalition partner, the Progressive Party, was planning to follow Temer's Brazilian Democratic Movement Party in leaving the ruling coalition.
The full lower house of Congress is expected to start voting as early as Friday whether to approve impeachment and send the motion to the Senate for consideration. If the Senate accepts the charges against Rousseff, she would have to step down until a final ruling is made.
Before it's here, it's on the Bloomberg Terminal.
LEARN MORE