Box Office Boom Conceals Unease in Movie Theater Business
by
AMC-Carmike merger, Justice probe, Internet weigh on companies

Studios concentrating on fewer, bigger blockbuster releases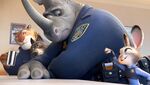 Pass the popcorn. There's tension bubbling under the surface at the annual gathering this week in Las Vegas of America's movie theater industry, which is facing a new round of threats after decades of defending its business in the television age.
At first glance, things look great. Hits like "Deadpool" and "Zootopia" have sent box-office sales surging 12 percent in the first quarter from a year earlier. New seating and projection technologies, such as "4D" movies with smells and other special effects, are coming to the fore. And theater stocks are outpacing the Standard & Poor's 500 Index for the first time in three years.
"Everyone is riding into this on cloud nine," said Barton Crockett, an analyst at FBR & Co. Any "rumblings of thunder, storm clouds" are distant worries, right now, he said.
But the rumbling is getting louder. It's likely that the most talked-about visitor at this year's gathering of movie exhibitors isn't an official attendee. Screening Room, a company backed by Napster co-founder Sean Parker, is planning to meet with potential partners at the gathering about its controversial plan for an at-home service that would show first-run movies at home, just when they debut in theaters.
"Screening Room is going to overshadow anything that is officially going on," said Jeff Bock, senior box office analyst at Exhibitor Relations Co. "It's the future of the industry in some ways -- or the future that right now the industry doesn't seem to want but may be inevitable."
Another Challenge
While it's too early to tell whether Screening Room can recruit enough partners to become viable, it adds to the challenges the industry is grappling with. Attendance has stagnated, with about 1.32 billion admissions last year -- up from 2014 but below the two years before that.
The second- and fourth-largest theater chains, AMC Entertainment Holdings Inc. and Carmike Cinemas Inc., are merging to get more heft in negotiations with studios and vendors and to cut back-office costs. And thanks to the Internet, moviegoers have more competition for their attention than ever.
"It's a wild, wild world to be in right now," said Barbara Twist, who will be attending the conference as managing director of Art House Convergence, which represents the interests of 600 small theater operators and allied businesses across the country.

Of course, movie theaters have survived many challenges over the years, from the advent of TV to videocassettes and DVDs to Internet piracy.
But the problems that have vexed the industry for decades have only gotten worse. The major studios fix their schedules on a handful of "tentpole" almost-guaranteed box-office successes -- very often superhero movies that appeal to young men -- making it difficult for theaters to attract anyone else. Last year, more than 25 percent of box office revenue came from just five films, according to Cowen & Co.
At the same time, online-streaming companies like Netflix Inc. have bid for the rights to show movies with only a short theatrical run -- if any at all -- further undermining the sanctity of the movie houses as being the first and only place to see a new film. At the Sundance Film Festival this year, Netflix scooped up several pictures, including horror film "Under the Shadow" and road-trip movie "The Fundamentals of Caring."
Exhibitors have already spoken out against Screening Room, which they believe threatens their business, even before Parker has acknowledged the plan publicly. The company is said to promise new films on a $150 set-top box at home on the same day they're released in theaters, with a charge of $50 per movie. Movie theaters would get a portion of that fee, according to Variety.
"We are in this moment of change," J.J. Abrams, director of blockbusters such as "Star Wars: The Force Awakens," said in an interview Monday. "What I like about what Screening Room is talking about is it allows everyone to be part of the process, to be at the table."
New Studios
Meanwhile, theater owners are welcoming new studios that have committed to showing their movies first in the cinema. Amazon.com Inc.'s film unit Amazon Studios will be showing a movie slate at the gathering for the first time, introducing its team and showing clips from 15 independent movies it plans to release. STX Productions LLC, one of Hollywood's first Chinese-backed studios, is also presenting for the first time.
Even if there are more studios distributing movies, there may be fewer major movie-theater companies. AMC, majority-owned by billionaire Wang Jianlin's Dalian Wanda Group Co., agreed to buy Carmike in March in a $1.1 billion all-cash deal that would create the world's largest cinema chain and extend Chinese influence in the movie industry.
AMC executives have said they expect the deal to be completed by year-end, perhaps with some divestitures for antitrust clearance. Crockett, the FBR analyst, said the deal presents very little antitrust risk because the chains don't have much geographical overlap.
AMC and Carmike declined to comment.
The merger is under review at the same time the Justice Department is looking into the distribution practice known as film clearances -- exclusivity deals in which a studio agrees that a film won't be licensed to show at a competing theater within a certain geographic area. The issue is severe for some of the small theaters Twist represents.
"Both consolidation and clearances are issues that face our members daily," she said. The problem of clearances could become worse if the top four chains are reduced to three by the merger, she said. "That sort of indirect power is very impressive."
Before it's here, it's on the Bloomberg Terminal.
LEARN MORE