Bank of Japan Reduces Funds Subject to Negative-Rate Policy
by and
Economist says this may be a softening of the new policy

Bank stocks surge in Tokyo trading after the announcement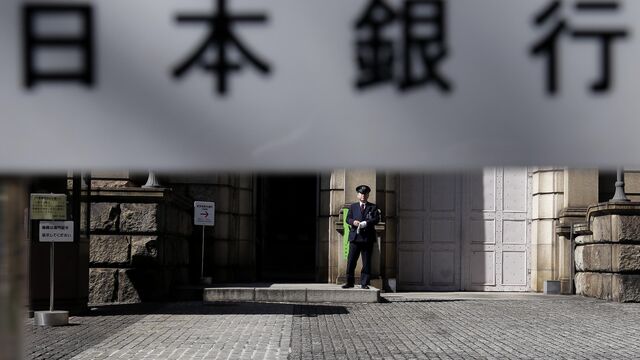 The Bank of Japan is reducing the share of funds financial institutions keep at the BOJ that will be subject to the new negative interest rate policy.
Enacting a technical adjustment that the central bank indicated was a possibility when it unveiled the new policy in January, the BOJ enlarged the share of new current-account funds that will be charged a zero percent rate. That portion is referred to as the macro add-on balance.
Bank stocks rallied after the announcement, which was released Monday. The central bank increased the ratio applied to the portion of deposits exempt from negative rates to 2.5 percent from the initial zero. It takes effect April 16.
"The basic message would be the BOJ is giving full consideration to banks' revenues," said Hiroaki Muto, chief economist at Tokai Tokyo Research Center in Tokyo. "This means that it's okay for banks to pile up money at the BOJ's current account balance. In that sense, the significance of the negative rate policy may be weakened."
The negative rate announced in January has caused confusion in Japan's money markets and hit financial institutions' share prices. Bank stocks soared more than 5 percent Tuesday, compared to a 1.5 percent gain in the overall Topix index.
Better for Banks
"We're beginning to see revisions of just how much of the banks' balances will be subjected to negative rates," said Koichi Kurose, Tokyo-based chief market strategist at Resona Bank Ltd who attributed today's rally in bank stocks to the BOJ's announcement. "Expectations are rising that the portion that gets charged zero will actually be larger than the amount that gets charged a negative rate."
The change increased the portion of the current account balances to which a zero interest rate is applied, thus shrinking the portion to which the rate of minus 0.1 percent is applied, a BOJ official said, asking not to be named due to bank policy.
The negative rate will be applied to between 10 trillion and 30 trillion yen in the two months starting April 16, the bank said in a statement. That compares to 23.1 trillion yen during the Feb.-March period.
In an explainer released after the January decision, the BOJ said it would increase the financial institutions' balances of current accounts to which zero interest rates will be applied" so that "the balances to which a negative interest rate will be applied will remain at adequate levels."
Before it's here, it's on the Bloomberg Terminal.
LEARN MORE