Australia Says First Trade Deal With India's Modi Is Very Close
by and
Australia's trade with India is 10 times less than with China

Indian official: ``Would be difficult to give any timelines"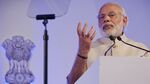 Australia says it's close to signing the first free-trade agreement with India since Narendra Modi came to power almost two years ago.
The deal could be completed in six to eight weeks if both sides sit down and go through the issues, according to Australia's special trade envoy Andrew Robb. He sees it as a bigger boon for Australia than a similar agreement signed last year with China.
"India is on its way," Robb said in an April 8 interview in Singapore after his sixth trip to India since he took on the trade portfolio in 2013. "In the decades ahead India will be as important to Australia in trade terms as China is today."
For Modi, the deal would signal a renewed effort to reduce trade barriers with major commercial partners as he seeks to lure manufacturers to produce in India, which recently eclipsed a slowing China as the world's fastest-growing economy. Since taking office, Modi has attracted more than $400 billion of investment pledges as part of his "Make in India" campaign.
"Now the thinking in the government is clear that apprehension on FTAs is not sustainable, and bilateral engagement is the way forward," said Ram Upendra Das, a trade economist at New Delhi-based Research and Information System for Developing Countries.
Trade Lags
Two-way commerce between India and Australia has lagged in recent years. It fell to $13.1 billion in 2014, the lowest level since 2009, according to data compiled by Bloomberg. That's more than 10 times less than trade between Australia and China, Australia's largest trading partner.
Yet crossing the finish line on a deal may prove difficult, particularly for an administration that hasn't focused on bilateral agreements. Until now, Modi has prioritized talks at the World Trade Organization and a China-led regional grouping.
"It would be difficult to give any timelines till the final negotiations exhibit a balanced outcome," Arvind Mehta, an additional secretary at India's Commerce Ministry, said in New Delhi on Tuesday when asked about the Australia trade pact.
Wine, Automobiles
Some contentious issues threaten to hold up the deal. Australia wants the agreement to include all Indian services except those specifically mentioned in the text, rather than mentioning explicitly all the subsectors that are covered, according to two Indian officials familiar with the talks who asked not to be identified due to rules for speaking with the press. Specific products under discussion include wine, automobiles and dairy, they said.
With 600 million Indians living on $2-a-day or less, Robb said he understood that India was not yet ready to lower tariffs on most agricultural and manufactured goods, and emphasized that Australia had to remain sensitive to that if it wanted India to further open its doors.
Robb, 64, stepped down as Trade Minister in February but was appointed Special Trade Envoy by Prime Minister Malcolm Turnbull with the specific task of concluding a trade agreement with India. Australia has reached trade and economic deals with China, Japan, South Korea and other countries in recent years.
While Australia could see a market for niche products such as its cheese, yoghurt, ice cream and wine, most of the opportunity will come for Australian services firms, Robb said.
"What Prime Minister Modi keeps telling me is that he wants access to all that Australian expertise as India moves along a path of rapid expansion," said Robb. "Those are going to be big opportunities for us."
Before it's here, it's on the Bloomberg Terminal.
LEARN MORE