Cars
Testing Audi's New $200,000 R8 Supercar on the Track at Daytona
by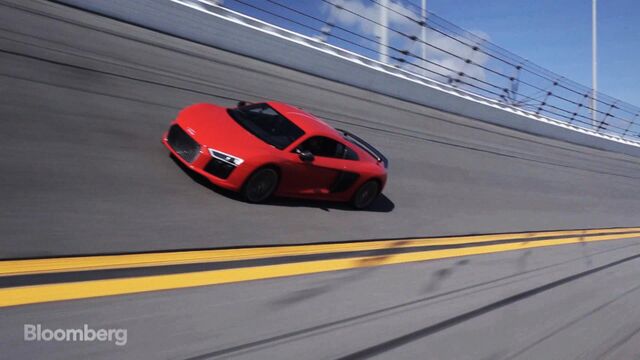 Volkswagen's Audi brand is reaching for a bigger piece of the luxury pie with the second generation of its critically acclaimed R8 supercar, competing to take market share from the usual German rivals as well as its own stablemates Lambo and Bentley. 
For one thing, that means making this the fastest, most powerful, and most expensive car the Ingolstadt, Germany-based company has ever produced. The top-spec version of the new R8, called the V10-Plus, puts out 610 horsepower, comes standard with carbon-ceramic brakes, and costs $190,000 to start. (Making it red, with the better leather, cooler wheels, and a louder stereo system from Bang & Olufsen edges you just north of $200,000.)

For another thing, they needed to make it easy to drive fast. Audi achieves this with an onslaught of high-tech engineering, like adjustable driving modes and launch control. The new R8 is also 100 pounds lighter than the outgoing model, and the V10-Plus has a fixed rear wing that puts 220 pounds of extra downforce on the rear axle. Lighter and stickier!
All of these advancements, plus a team of trainers, a closed track, and a bevy of safety personnel, made it possible for a novice like me to navigate the banked turns of Daytona International Speedway at 183 miles per hour. Bucket list, check.

Obeying Gravity
Hitting those speeds on the banks was amazing for many reasons. First and foremost, it's a personal record. But also, I never realized that gravity pushes you down in your seat, rather than back, forcing you to look up and to the left since the road in front of you is also above you. So rad!
The other thing I noticed likely had as much to do with the car as it did with Daytona. I never realized how fast I was going until I looked down at the clock. We were hitting 120 mph on the cool-down laps, when I thought we were doing 70.
The Audi is built on the bones of the Lamborghini Huracán, or vice versa depending on whom you ask. So separating the two cars is one of the biggest challenges for Volkswagen brass, which owns both brands. But one way to do it is through your wallet—the little Lambo costs $50,000 more.
This even though they both use the exact same naturally aspirated, 5.2-liter V10 and the same seven-speed dual clutch. Neither car comes with a stick because no driver could keep up with the speed on a manual transmission. Sad, that, but props for not going turbo. 

Competitive Advantage
The Audi R8, though it costs less than the Huracán, has a more luxurious feel on the inside, with slick, intuitive steering-wheel-mounted controls that run the whole car from your own personal cockpit. If you buy it, of course you're getting the better leather and springing for the B&O system, because who's looking to save money on a $200,000 car? The Lambo is a little more brutal. A lot louder and a little sharper.
Supposedly they can both do zero-to-60 in about 3 seconds (the manufacturers claim), but Car and Driver says it's actually 2.7. It seems the winner of a drag race would depend mostly on the driver and not the car, but both Motor Trend and Top Gear have the Audi edging out the Lamborghini in timed tests.

The R8 is also more spacious, as well, with room for golf clubs behind the front seats. The new design makes it look bigger—it's actually a tick shorter and lower, but wider and more angular than its predecessor—more aggressive, more masculine. And the trademark "side blade'' is now "side blades,'' having been cut in two.
At the end of the day, this is a competitive space, with VW's other brands Porsche and Bentley competing for some of that same cash, and Mercedes's AMG GT hot on their tails, as well as BMW's hybrid i8 (an all-electric R8 is coming, too).
Audi needs to make this one count, as this section of the market is so hotly contested. If they offer all of their prospective buyers a test drive at Daytona, they're sure to take the lead.

Before it's here, it's on the Bloomberg Terminal.
LEARN MORE