A Shadow Government Emerges in Brazil as VP Temer Enters Fray
by
Temer planning reforms if Congress ousts the president

Rousseff accuses him of staging a coup against her government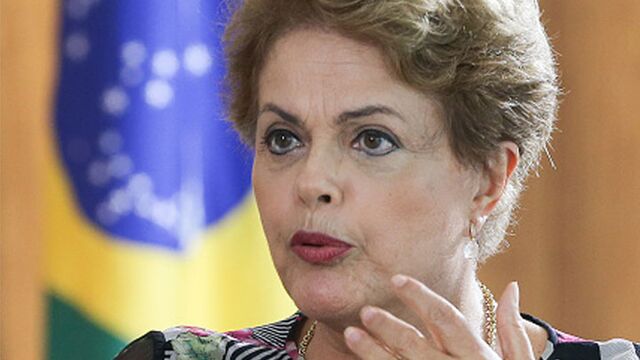 Brazilian Vice President Michel Temer is drawing up plans to form a transitional government as Dilma Rousseff sharpens accusations that he is the mastermind of a coup against her.
With a crucial impeachment vote looming in the lower house of Congress on Sunday, Temer plans to spend his early political capital on reforms that will stem the worst recession in the country's modern history, according to an aide involved in drafting the strategy. That means shrinking the size of government and choosing a finance minister who will implement his party's fiscally conservative manifesto should Rousseff be ousted, the person said.
QuickTake Brazil's Highs and Lows
Two camps are now vying for power in a country wracked by recession and scandal. On one side, Temer and his aides are trying to convince investors and the general public that they can be trusted with the reins of power. Opposing them is President Rousseff and her predecessor, Luiz Inacio Lula da Silva, who have governed Brazil for the past 13 years and are accusing Temer's faction of "fraud and conspiracy."

As the mood worsens, security forces are bracing for waves of protesters to descend on the capital city of Brasilia this weekend and have erected barricades to keep them apart.
'Coup Under Way'
"There can no longer be any doubt of my claims that there is a coup under way," the president told supporters in an event Tuesday.
Rousseff's anger aside, Temer's camp is confident that it will garner enough backing to put together a transitional government that will last through to the next election in 2018. In an interview to an Estado columnist, Temer promised dialogue and said he "is prepared" to take over as president "if destiny takes me to that position."
Rousseff's biggest coalition partner, the Progressive Party, left the ruling alliance on Tuesday, depriving her of key votes in Congress. Impeachment needs support from two-thirds of the 513 members of the lower house to advance to the Senate, and the aide said he expects most of them to stick with Temer until 2018.
"Temer will have a good start, which should give him room to approve a minimal reform agenda," analysts from political consulting firm Eurasia Group wrote in an April 12 report. He'll have a "very narrow honeymoon," they said.
Rousseff, however, will not give up easily. She turned her anger on the vice president after a tape emerged Monday of him rehearsing a speech in the event she loses the lower house vote. On Tuesday morning, she gathered her cadre of closest advisers, including Attorney General Jose Eduardo Cardozo, to sharpen their attack on Temer and Eduardo Cunha, the head of the lower house of Congress. 
Deeply Unpopular
The two politicians are running the "coup headquarters," she told a gathering in the presidential palace. The idea of a coup carries added resonance in Brazil after a 21-year military dictatorship ended in 1985, in which Rousseff was imprisoned and tortured for her participation in armed resistance.
Rousseff's enemies have their own problems. Cunha, who hails from the same party as Temer, has become deeply unpopular after prosecutors said he has Swiss bank accounts padded with money from bribes. He denies the allegations.
 
Cardozo, the attorney general, said in an interview Tuesday that Cunha's decision to open impeachment proceedings against Rousseff in December came in response to an ethics probe made against him and amounted to "blackmail." That's the "original sin" of the push to oust the president, which has no legal foundation, he said.
Legal Challenge
Cardozo, who is responsible for Rousseff's defense, said the government was still weighing when and if it would challenge impeachment in the Supreme Court. He said he's cautiously optimistic the president will win the vote on Sunday.
If the 68-year-old leader manages to survive the process, her best hope for stitching together a coalition rests on the political skills of Lula, her predecessor and mentor, Cardozo said. That said, Lula is also under investigation for corruption, though he denies wrongdoing.
All of that means that whichever side prevails will face an uphill battle to regain the confidence of the electorate and put the economy back on track. A Datafolha poll published last week showed 61 percent of Brazilians support Rousseff's removal from office, with Temer faring only slightly better with 58 percent calling for his ouster.
Before it's here, it's on the Bloomberg Terminal.
LEARN MORE