Waxwork Putin Shows Russia's Creeping Influence at EU Fringe
James M. Gomez, Gordana Filipovic and Misha Savic
Minority of Serbians believe joining EU, NATO good for nation

Radical leader predicts surge in voter support before election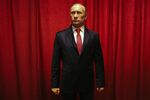 At the end of a busy street an hour from Belgrade, past outdoor cafes, discount clothing stores and second-hand mobile phone outlets, artists at a tiny wax museum worked day and night for two months to complete a tribute to Vladimir Putin.
The figure stands alongside a Yugoslav communist party flag and a panoply of such local luminaries as late strongmen Slobodan Milosevic and Josip Broz Tito, thanks for Putin's support of Serbia's opposition to the Kosovo's independence.
"Around 75 percent of Serb citizens respect Putin and Russia, so we decided to let Putin be the first foreigner," said Dragan Markovic Palma, the mayor of Jagodina, which unveiled the statue last month. "Russia has helped a lot."
As Prime Minister Aleksandar Vucic campaigns before April 24 general elections, his bid to prepare the country for European Union membership is facing a lurch to nationalism. It includes throw-back sentiment for Russia in the country of 7.2 million people as the EU is itself shaking under doubts about its future and resentment lingers over the bloody breakup of Yugoslavia. One of the beneficiaries has been the Radical Party, which wants to end talks to join the trading bloc.
EU, Russia
More than two decades after the fall of communism, Russia is once again courting the countries over which it once held sway. In Hungary, Prime Minister Viktor Orban has forged a $11 billion nuclear deal with Putin's government and tried to emulate his model in pursuing an "illiberal democracy." Czech President Milos Zeman and Slovak Premier Robert Fico have said EU relations should not come at the expense of Russia.
In Serbia, only 11 percent of voters said they believed joining the EU and NATO -- which bombed Serbs twice in the 1990s -- is good, while 72 percent saw it as bad, according to an April 10 opinion poll conducted by B92 TV and the Center for Free Elections and Democracy. That's far more pessimistic than the 48 percent for EU entry in a state poll by Serbia's European Integration Office, which doesn't measure backing for NATO entry. Meanwhile, eight of the 18 parties running for parliament are pro-Russian.
Friendship Societies

What's more, the pressure to veer Serbia's foreign-policy goals eastward comes alongside the creation of a slew of Russian-Serbian friendship societies such as the Association of Russian Descendants and the Strategic Culture Fund, a Russian-Serbian Internet site reporting on events in Serbia, Russia, Balkans and the former Soviet Union.
"A further increase in Russian sentiment is possible," said Jovo Bakic, a sociology professor at the Faculty of Philosophy in Belgrade. "And I wouldn't be surprised to see Vucic, after two or three years, changing his rhetoric if he sees that Russia, and not the EU, is what people want."
Still, with 3 billion euros ($3.42 billion) already allocated from EU coffers, Vucic has made readying Serbia for accession by 2020 his chief foreign-policy goal. Many Serbs see the EU, and not Russia, as a path to raising living standards like former federation partners Slovenia and Croatia, which joined the bloc in 2004 and 2013.

"We want good relations with Russia and we have them," Vucic said in an interview to local TV broadcaster Happy TV on March 21. "But we want and we are heading toward the European Union."
That approach is backed by foreign direct investment, mostly from the EU, which has steadily risen in Serbia over the past five years.
"The EU has been committed in enabling Serbia not only to eventually join the EU, but to make a real difference for its citizens," Michael Davenport, the head of the EU Delegation to Serbia, said in a statement on April 8.

Even so, there is still strong cultural affinity among Serbs with Russia, which helped communists win power under Tito after World War II. Both countries are Orthodox Christian and share the Cyrillic alphabet, unlike most other Slavic nations in the region.
For Russia's part, Foreign Minister Sergei Lavrov said EU talks are the "absolutely the sovereign choice" for Serbia, but he rejected a "destructive either-or logic," which he blamed for "the profound crisis of Ukrainian statehood." The Kremlin denies accusations from the EU and the U.S. that it has backed insurgents with troops and arms to prevent Ukraine from shifting out of its sphere of influence.

Vucic maintains a strong lead in polls, with his Progressive Party showing support of 50.9 percent at end-March, according to a survey by Belgrade-based Faktor Plus published April 11. Still, he's warned that the acquittal of Radical Party leader Vojislav Seselj of war crimes by the United Nations Hague Tribunal last month may undermine his ability to form a government.
Seselj is in third with 7.8 percent in the poll and says he said he may end up with more than a quarter of the vote following his acquittal. Deputy president under Milosevic when NATO bombing helped drive Serb forces out of Kosovo, he's calling for an end to EU talks.
"Our friends can only be those who didn't bomb us," he said at a news conference after his acquittal.  
But he and other pro-Russian figures are running out of time to capitalize on feelings of Slavic friendship, especially among those who have suffered hardship since war devastated the economy two decades ago.
"We've got nothing in common with Russia," Aleksandar Radojkovic, a 38-year-old unemployed carpenter, said before jumping on a beat-up yellow bicycle in Jagodina. "Most things that come to Serbia come from the West, and if when we try to run away from here and find work somewhere, it's the West again, not Russia."
Before it's here, it's on the Bloomberg Terminal.
LEARN MORE