Spain Heads for New Elections as Podemos Targets Socialists
by
Lawmakers must choose leader by May 2 or new vote triggered

Election could be held three days after `Brexit' referendum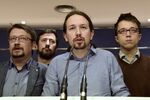 The chances of a repeat election in Spain are increasing after the anti-austerity party Podemos rejected talks on forming a three-way governing alliance, pouring cold water on the best shot for an administration almost four months after an inconclusive ballot.
While polls show that support for the two-year-old anti-austerity group has dipped since the last election on Dec. 20, party leader Pablo Iglesias is betting he'll be able to outmaneuver rivals in the cut-and-thrust of a campaign after orchestrating a shock resurgence to hand the Socialists the worst result in their modern history in December. Iglesias's refusal to join a pact with Socialist leader Pedro Sanchez and his pro-market ally Ciudadanos is likely to be confirmed by a ballot of Podemos members this week.
"Podemos has an incentive to prevent the Socialists getting into power because it would give them a chance to get organized again," Pablo Simon, a political science professor at Carlos III University in Madrid, said in a telephone interview. "They know they can turn things around just like they did in the last election."
Fresh hostilities between Podemos and the Socialists would offer caretaker Prime Minister Mariano Rajoy his best opening to hang on to power. Rajoy has largely been sidelined since losing his majority in December as opponents tried to find a formula to push him out. If they can't manage that by May 2, voters will be asked to cast their ballots again.
Polls suggests that the result would differ little from December, with Rajoy's People's Party placing first on about 29 percent and the Socialists around 22 percent. Still, if Ciudadanos were to overtake Podemos to come third -- as recent surveys in El Mundo and El Pais have suggested -- that would open up the chances of a center-right coalition.
Spreads Widen
The political impasse has begun to drag on Spanish bonds, with investors demanding an extra 17 basis points on Monday to hold the government's 10-year debt instead of similar duration securities issued by Italy. The spread was 5 basis points at the start of December.
Though Spain's economy is growing at three times the pace of Italy's, investors are pricing in a new election which could further slow the process of economic reform, said Jose Mosquera, chief investment officer at Madrid-based hedge fund Rho Investments Sil SA.
Iglesias last week rejected an invitation to start detailed negotiations with the Socialists and Ciudadanos after initial talks between party leaders on April 7. Iglesias said the other parties were too inflexible in their response to his proposals and called a binding vote of members for April 14-16 to endorse his position.
The 37-year-old anti-austerity leader has often managed to keep one step ahead of his rivals since the December ballot to set the agenda in search for a government. His election-night speech framed the terms of negotiations; in January he offered to back a Socialist-led government in a televised press conference without giving Sanchez any warning, and he's regularly captured the public attention with a mixture of fiery rhetoric and humor in parliament.
Options Dwindle
His latest move leaves few options for the current parliament to form a government. Ciudadanos is trying to explore a three-way alliance with the Socialists and Rajoy's PP and El Mundo reported Monday that Rajoy could offer Sanchez the post of deputy prime minister. Sanchez has repeatedly rejected any deal with Rajoy because of a wave of corruption scandals involving PP officials.
"While we'll have to wait until the last minute, everything now points toward new elections," said Manuel Mostaza, head of operations at pollster Sigma Dos. "If Podemos doesn't abstain at the last minute in favor of a deal between the Socialists and Ciudadanos, then we'll have fresh elections because the option of a grand coalition is extremely complicated."
King Felipe will hold talks with party leaders on April 25 and 26 in one last effort to avoid another ballot. A new vote would likely be held on June 26, three days after the U.K. referendum on whether to leave the European Union.
Before it's here, it's on the Bloomberg Terminal.
LEARN MORE