Puerto Ricans Unlikely to Live Long Enough to See Bonds Mature
by
Islanders should avoid proposed `local option,' analyst says

First principal would be paid in 2065 under revised plan
Puerto Ricans who plowed their savings into the island's bonds may eventually get paid in full. They probably just won't be alive to see it.
Puerto Rico residents would be the last in line under a revised debt-restructuring proposal released Monday, which would give them the option to recoup their full original investment in return for putting off repayment until 2065 and accepting just 2 percent annual interest for nearly half a century. The option reflects a goal of paying Puerto Ricans who depend on the income, though they'd still feel an immediate impact: Almost all of the island's pension bonds, which attracted its citizens because interest was tax exempt only in the commonwealth, offer coupons greater than 6 percent. 
There's also another risk to consider: With other debt maturing first -- including new zero-coupon bonds given to creditors that delay all interest and principal until balloon payments come due -- they could be asked to take another round of haircuts if the ailing economy doesn't turn around, said Matt Fabian of Municipal Market Analytics.
"Local holders should do whatever they can not to be stuck with the local option," said Fabian, a partner at Concord, Massachusetts-based MMA. "With Puerto Rico's population and economy collapsing, and likely continuing to contract for the foreseeable future, it's hard to assume the commonwealth will ever have the money to fully repay those zeros."
"Local bondholders would be far better off taking their losses upfront or, better, fighting in court for whatever recovery they can win."
Related: As Puerto Rico Nears Record Default, Insured Investors Rest Easy
The revised proposal shows the difficult path that Puerto Rico faces as it tries to reduce its $70 billion of debt through a consensual agreement with a variety of creditors, from hedge funds to individuals living on the island. They bought the bonds at a wide range of prices and have different degrees of interest in fighting for full repayment. 
The updated plan is Puerto Rico's second offer and comes as it verges closer toward defaulting on major payments due in May and July. The revised proposal would slash its $49.3 billion tax-supported debt to as little as $32.6 billion, depending on how many Puerto Ricans accept the delayed maturity bonds, a smaller reduction than the cut to $26.5 billion originally proposed. It also offers investors the zero-coupon bonds instead of so-called growth bonds that only paid off if the economy hit certain benchmarks.
As a result, it would leave the government paying $1.85 billion a year in debt service, $149 million more than its initial plan. General obligations and commonwealth-guaranteed securities would recover 74 percent, up from 72 percent, and sales-tax bonds, called Cofinas by their Spanish acronym, would recoup 57 percent, up from 49 percent.
The unveiling of the counteroffer comes after Governor Alejandro Garcia Padilla last week signed a debt-moratorium law that allows him to suspend payments on a wide swath of the island's debt through January 2017. He said the commonwealth can't continue to both pay bondholders and provide essential services to its 3.5 million residents.
Watch Next: QuickTake: Puerto Rico's Swelling Debt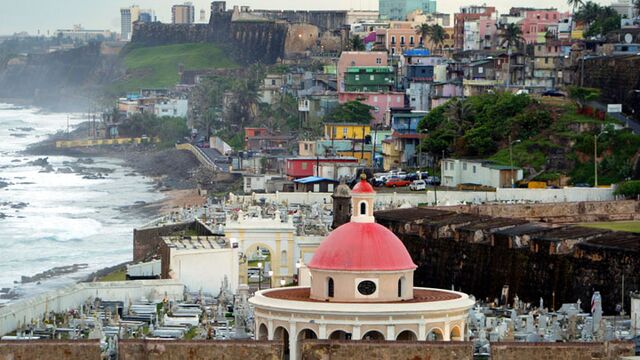 Before it's here, it's on the Bloomberg Terminal.
LEARN MORE