Osborne Follows Cameron to Publish U.K. Tax Data on Earnings
by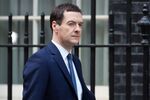 Chancellor of the Exchequer George Osborne published his most recent U.K. tax return, showing his earnings were just below those of his boss, Prime Minister David Cameron.
Osborne earned 198,738 pounds ($283,700) in the tax year 2014-2015, with 44,647 pounds of earnings coming from dividends, according to the document published on the Treasury's website on Monday. He paid 72,210 pounds in tax in the period.
That compares with 200,307 pounds for the prime minister for the same period.
Some of Osborne's wealth comes from his father's company, Osborne & Little Group, in which the chancellor owned 6,833 shares as of April 25, the most recent annual return for the company.
Before it's here, it's on the Bloomberg Terminal.
LEARN MORE