Oil Surge Fuels Stocks to Metals as Demand for Haven Assets Ebbs
by and
Crude tops $42 with Russia, Saudis said to agree on cap

Yen snaps seven-day advance as government bonds decline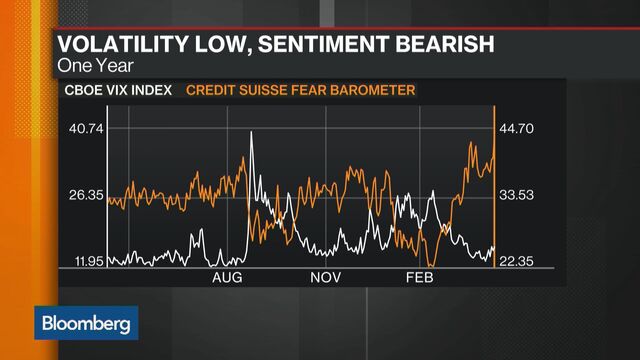 Oil rallied above $42 a barrel, buoying stocks and commodity prices worldwide amid a revival in optimism over the global economy.
Energy shares in the Standard & Poor's 500 Index surged the most since February after Russia and Saudi Arabia were said to have forged a deal on freezing oil output. Metals jumped, bolstering the Bloomberg Commodity Index and offsetting the impact of the International Monetary Fund's warning on global stagnation. The yen fell versus all its major peers, as Treasuries and German bunds slid amid diminished demand for haven investments.

Crude oil is extending its 14 percent climb this year amid prospects a drop in U.S. shale production will help ease a global glut in the commodity. Traders are focused on a meeting in Doha set for April 17, where major producers, including Russia and Saudi Arabia, are due to discuss arresting production. Speculation the oil market could soon find some enduring stability is helping to prop up equities, even as investors brace for what's projected to be the worst American earnings season since the global financial crisis. The Federal Reserve's pared timeline for interest-rate increases is also supporting gains.
"There's continued positive sentiment that is a function of a more dovish Fed as well as continued oil price strength and weakness in the dollar," said David Spika, the Dallas-based global investment strategist for GuideStone Capital Management. "Oil prices have really been the driver of sentiment, with a high positive correlation."
Stocks
The S&P 500 jumped 1 percent to 2,061.72 as of 4 p.m. in New York, while the Dow Jones Industrial Average added 0.9 percent, or 165 points.
Energy producers climbed 2.8 percent, leading gains that overshadowed an IMF projection for global economic growth of 3.2 percent this year, down from a 3.4 percent estimate made in January. Chesapeake Energy Corp. and Southwestern Energy Co. soared more than 15 percent, with energy companies accounting for all but one of the 10 biggest S&P 500 gainers Tuesday.
U.S. stocks fell on Monday after an earlier advance fizzled in afternoon trading. Alcoa Inc. unofficially kicked off the reporting season after markets closed last session, posting first-quarter sales that fell short of projections. Shares of the aluminum producer sank 2.7 percent on Tuesday.
"We don't have strong revenue growth -- that's what we heard from Alcoa," said GuideStone Capital's Spika. "Until we have that, particularly with wage pressure, it's hard to justify a move higher in the market. Investors are whistling past the graveyard and not focusing on the key issue. It's a show-me market, and we need earnings to push it forward from here."
The Stoxx Europe 600 Index rose 0.5 percent, as insurers, miners and oil producers contributed the most to gains. Anglo American Plc posted the biggest rally, jumping 9.2 percent. Japan's Topix index climbed the most in three weeks as the yen weakened, while Nomura Holdings Inc. jumped the most since February on a reported plan to shut its European equity operations.
Futures on Asian stock indexes signaled gains for Wednesday, with yen-denominated contracts on the Nikkei 225 Stock Average jumping 2.3 percent to 16,065 on the Chicago Mercantile Exchange, after futures in Osaka climbed 1.3 percent to 16,130.
Contracts on Australia's S&P/ASX 200 Index rose at least 0.2 percent with those on the Kospi index in Seoul, while futures on Hong Kong's Hang Seng Index added 0.9 percent. Futures on the Hang Seng China Enterprises Index, which tracks mainland Chinese stocks listed in Hong Kong, jumped 1 percent as those on the FTSE China A50 Index gained 0.3 percent.
Commodities
Oil rallied after Russia's Interfax news agency reported Saudi Arabia and Russia had reached a consensus on an oil freeze during talks on Tuesday, citing an unidentified "informed diplomatic source" in Doha. The gains extended as Kremlin Press Secretary Dmitry Peskov said there's "hope" for a deal in Doha, regardless of whether Iran joins in.
Russian Energy Minister Alexander Novak spoke to Saudi Petroleum Minister Ali al-Naimi by phone on Tuesday to discuss prospects for an oil production freeze, a person with direct knowledge of the matter said. Saudi Arabia, the biggest OPEC producer, has previously said that it would agree to a cap output only if it's joined by other suppliers including Iran, while Kuwait said a deal can be done without Tehran's support.
West Texas Intermediate crude jumped 4.5 percent to $42.17 a barrel, the highest level since Nov. 25, while Brent climbed 4.3 percent to $44.69.
Copper recovered for a second day, in the wake of its biggest weekly loss in three months, rising 2.2 percent to $4,766.50 a metric ton in London. Aluminum climbed 1.6 percent, while nickel surged 3.5 percent, boosting the London Metals Index by 2.3 percent.
Silver climbed 1.5 percent in the spot market to its highest price since June, as gold for immediate delivery slipped 0.2 percent following a three-day gain.
Emerging Markets
The MSCI Emerging Markets Index rose 0.8 percent, bringing its four-day advance to 2.7 percent. Shares in the Persian Gulf advanced with oil, sending stock gauges in Saudi Arabia and Dubai up at least 1.4 percent. Benchmark indexes in South Africa and South Korea gained more than 0.5 percent.
Brazil's Ibovespa jumped 3.7 percent after a committee of lawmakers voted to recommend the impeachment of President Dilma Rousseff amid allegations she bypassed Congress to illegally finance a budget deficit. The real climbed a third day, extending gains at its strongest level since August.
The Shanghai Composite Index fell 0.3 percent, while the Hang Seng China Enterprises Index of mainland Chinese companies listed in Hong Kong rose 0.4 percent.
MSCI's Emerging Markets Currency Index added 0.2 percent, also rising a fourth day. Russia's ruble led gains, strengthening 1.6 percent, while the Colombian, Chilean and Mexican pesos also advanced.
Currencies
The yen halted a seven-day surge against the dollar, before central bankers and finance ministers from the Group of 20 nations meet this week. Japan will take proper action if the currency's moves are extreme, Finance Minister Taro Aso said Tuesday. The yen weakened 0.6 percent to 108.54 per dollar, and lost 0.4 percent to 123.59 per euro.
The Swedish krona climbed to its strongest level since early January against the euro. Data showed inflation in the Nordic country accelerated more than analysts anticipated last month, alleviating pressure on the central bank to boost stimulus at next week's policy meeting.
The pound rose against the euro after similar data in the U.K. also showed faster price growth.
Bonds
Ten-year Treasury yields climbed five basis points, or 0.05 percentage point, to 1.78 percent, with the U.S. due to sell $24 billion of three-year notes, part of a combined $56 billion of planned coupon-bearing debt sales this week.
Euro-area government bonds also retreated, with longer-dated maturities bearing the brunt of a selloff in the region as investors prepared to absorb new debt, including France's sale of 50-year securities through banks and a Dutch auction of debt due in 2047.
The deluge of supply is interrupting a rally that has seen longer-dated bonds outperform as investors seek higher yields further along the curve after the European Central Bank's stimulus measures suppressed shorter-dated yields.
Ten-year German yields rose five basis points to 0.16 percent, while France's 30-year bond yield climbed nine basis points to 1.5 percent, having increased nine basis points in the previous two days.
Before it's here, it's on the Bloomberg Terminal.
LEARN MORE