London's Biggest Threat Is Khan, Not `Brexit,' Goldsmith Says
by and
Says `hostile' Labour would take capital in `wrong direction'

Tory plans to free up land, expand transport to build homes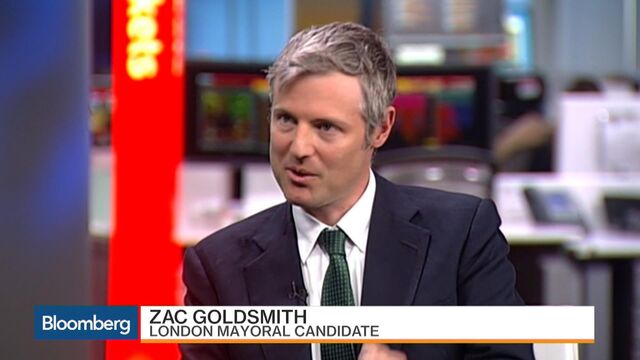 Sadiq Khan, the opposition Labour Party's candidate to become mayor of London, is a greater threat to the capital than whether the U.K. votes to leave the European Union in June's referendum, said the Conservative candidate, Zac Goldsmith.
"The biggest risk that London faces by far is not whether or not we stay in the European Union or come out of the European Union, it is whether or not London makes the wrong call on May 5," Goldsmith said Monday in an interview with Bloomberg Television. "I have a huge responsibility to win the arguments about the mayoralty over the next 24, 23 days."
The Conservative candidate's battle for the mayoralty may be hampered by his support for a "Leave" vote -- a so-called Brexit -- in the June 23 referendum, with polls showing the capital is the most pro-EU part of England. Khan, who backs staying in, led Goldsmith by 54 percent to 46 percent in the latest Opinium Research LLP poll when second-preference votes were accounted for.
Banks including HSBC Holdings Plc, ING Groep NV and Deutsche Bank AG have indicated they may move jobs to continental Europe from London in the event of a "Leave" vote and Credit Suisse Group AG has said as many as 45,000 jobs may go from the City of London. Bank of England Governor Mark Carney has described Brexit as the "biggest domestic risk to financial stability," and 58 percent of Londoners back a "Remain" vote, according to YouGov.
No Apocalypse
"Many of the people who predict apocalypse now predicted apocalypse were we not to join the euro," Goldsmith said. "The business community does not speak with one voice on this issue. For every Richard Branson, there's a James Dyson," he said, referring to the billionaire supporter of EU membership and the British inventor who supports a Brexit.
"The job of the next mayor, whoever that is, is not to take us out of Europe or keep us in Europe; it's to make work whatever decision is made by the British people," Goldsmith said.
Goldsmith's priority as mayor is to solve the capital's housing shortage, and he's pledged to build 50,000 new homes a year by persuading the government to free up land, and expanding the transport network to reach currently inaccessible areas.
"The threat to London is being taken in the wrong direction by a very, very hostile Labour Party, and that's why I am committed to preventing that so that I can deliver my own action plan for London," he said.
Before it's here, it's on the Bloomberg Terminal.
LEARN MORE