Japanese Stocks Fall as Yen Strengthens, Machine Orders Decline
by and
Yen touches strongest level against dollar since October 2014

Topix falls 17 percent in 2016 as foreigners dump shares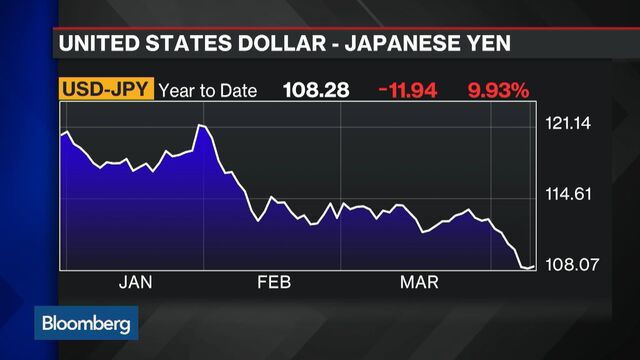 Japanese stocks fell, extending two weeks of losses, as the yen rallied for a seventh day and a report showed machine orders dropped for the first time in three months.
The Topix index lost 0.6 percent to 1,279.79 at the close in Tokyo, with all but seven of its 33 industry groups retreating. The Nikkei 225 Stock Average fell 0.4 percent to 15,751.13. The yen traded at 107.88 per dollar, its strongest level since October 2014. Core machine orders slipped 9.2 percent in February from January, according to data released Monday. Analysts had expected a 12 percent drop.
"The market's simply following currency moves," said Soichiro Monji, chief strategist at Tokyo-based Daiwa SB Investments Ltd. in Tokyo. "At its extreme, there are many views that see the Japanese market as useless once the yen strengthens."
Carmakers were the biggest drags on the Topix, as strength in the yen weighed on the outlook for export earnings. Mazda Motor Corp., which received about 84 percent of its revenue from outside Japan last year, retreated 2 percent. Suzuki Motor Corp., which received 68 percent of sales overseas, sank 2.3 percent.
Olympus Corp., an endoscope manufacturer that gets three-quarters of its revenue abroad, fell 3.9 percent, the biggest drop on the Nikkei 225. Pasona Group Inc. tumbled 13 percent after the staffing-service provider cut its full-year operating profit forecast by 21 percent to 3.7 billion yen ($34.3 million). Felissimo Corp. rose 4 percent after the online retailer said it will buy back as much as 32 percent of its shares and raised its operating-profit forecast by 87 percent to 514 million yen.

"It's difficult to meddle with exporter shares when the yen's at this level," said Hiroaki Hiwada, a Tokyo-based strategist at Toyo Securities Co. "With the yen at 107 per dollar, buyers are staying their hands."
The Topix is down 17 percent in 2016, the steepest decline behind Italy among global shares, as foreign investors pulled out of the market. They sold a net $46 billion over 13 straight weeks of selling. BlackRock Inc., the world's largest money manager, is among firms ending bullish calls on Japan equities, citing a stronger yen and increased volatility as risks.
Japanese shares pared losses Monday afternoon as the Shanghai Composite Index rallied
the most this month amid signs of a pick-up in industrial demand. Fanuc Corp., a robotics-maker which gets about half its revenue from Asia excluding Japan, erased a loss of as much as 2.4 percent to close 0.2 percent higher.
Futures on the Standard & Poor's 500 Index declined 0.1 percent. The underlying U.S. equity gauge added 0.3 percent on Friday, trimming the worst weekly slide in two months, as a surge in crude that boosted energy shares offset a slump in biotechnology shares.
Before it's here, it's on the Bloomberg Terminal.
LEARN MORE