Yen Struggles to Advance for 7th Day Amid Record Bullish Bets
by , , and
Currency is little changed after six-day winning streak

Yet Mr. Yen predicts advance to 100 per dollar by end of year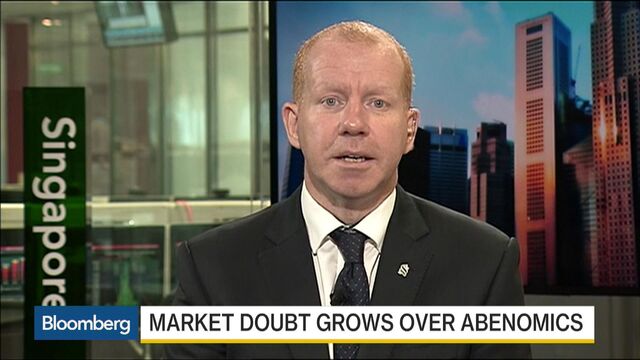 The yen struggled to hold onto its advance to a 17-month high amid speculation that further buying will be limited now bullish wagers have reached a record.
The currency was little changed versus the dollar Monday after a six-day rally that was its longest winning streak in a year. Investors piled into the yen as a haven last week as China's slowdown continued to influence global markets. And when the Bank of Japan failed to intervene to stem its gains, that encouraged more buying. Now, though, strategists are starting to re-assess.

"I really can't see this kind of yen appreciation lasting," said Kit Juckes, a global strategist at Societe Generale SA in London. "The Bank of Japan may be powerless" to weaken the currency, "but even so, the fundamental foundations of a bullish-yen argument are, today, paper thin."
The yen was little changed at 108.03 per dollar as of 10:17 a.m. in New York, after advancing to 107.63, the strongest level since Oct. 27, 2014. A seventh day of gains would have been its best run since September 2012.
Speculators increased bets on the yen versus the dollar to 98,130 contacts in the week ended April 5, the most in Commodity Futures Trading Commission data starting in 1992. In mid-December, bullish yen contracts were at a 10-month low of 26,400.
Japan's Challenges
While the yen benefits from Japan's current-account surplus, the world's third-biggest economy faces other challenges. Policy makers are struggling to push inflation to anywhere near their 2 percent target, and growth is forecast by analysts surveyed by Bloomberg to reach just 0.6 percent this year, raising the prospect of a recession.
Even with Monday's pullback, though, there's little sign that speculators are heeding the rhetoric of Japanese authorities aimed at checking the yen's advance. Chief Cabinet Secretary Yoshihide Suga reiterated today that officials are watching the foreign-exchange market "with vigilance," and will take appropriate action if necessary. Deutsche Bank AG and Bank of Singapore Ltd. said the yen remains at or below fair value.
"The yen is nowhere near overvalued," making it hard to justify intervention, said Sim Moh Siong, a foreign-exchange strategist at Bank of Singapore. "Even though the yen has moved quite substantially against the dollar, you look at yen relative to euro and other currencies, it hasn't really strengthened all that much."
Eisuke Sakakibara, the former Japanese Finance Ministry official known as Mr. Yen, agrees that the currency has further to go, predicting it may strengthen to 100 per dollar by year-end. A measure of purchasing power parity from the Organisation for Economic Co-operation and Development suggests the yen is still almost 2 percent undervalued versus the dollar.
"Japan's biggest problem with the current yen rally is that it is justified by fundamentals," George Saravelos, a strategist at Deutsche Bank in London, wrote in a client noted dated April 11.
Before it's here, it's on the Bloomberg Terminal.
LEARN MORE