Ackman-Backed Plan Dies as Canadian Pacific Ends Norfolk Bid
by and
Suitor `saw a deck stacked against us,' CEO Harrison says

Move comes days after U.S. Justice Department opposes takeover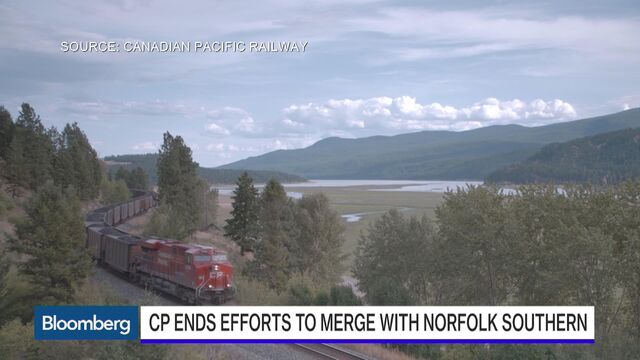 Canadian Pacific Railway Ltd. abandoned its bid to buy Norfolk Southern Corp. after five months of public efforts and several rejected bids, dealing a setback to investor Bill Ackman, who championed the transaction.
The deal, valued at $27 billion, would have been the largest railroad merger since regulators changed their criteria for approving combinations in 2001. Norfolk, the second-largest railroad in the eastern U.S., had called that offer "grossly inadequate" and said regulators probably would scuttle the deal.
The abandoned bid means Canadian Pacific Chief Executive Officer Hunter Harrison must search for other ways to bolster profit under the oversight of Ackman, whose Pershing Square Capital Management is the railroad's second-largest shareholder. The carrier's effort to merge with Norfolk Southern drew opposition from customers such as United Parcel Service Inc. and FedEx Corp., as well as from the U.S. Department of Justice.

"We effectively saw a deck stacked against us and said: 'Let's move forward,'" Harrison said Monday in a Bloomberg Television interview. "This is not the end of the world. We're looking out for the CP shareholder, and we've got plenty to do."
Canadian Pacific "is walking away from the negotiating table that never really existed," Jason Seidl, an analyst at Cowen & Co., said in a note. "Presumably, it was the DOJ's opinion last week that broke the camel's back."
A Pershing Square spokesman declined to comment.
Coast-to-Coast Network
Canadian Pacific had sought to acquire Norfolk Southern to create a coast-to-coast network that the suitor said would benefit shipping customers by reducing costs and congestion. The U.S. railroad rejected three offers.
The Canadian carrier said in a prepared statement Monday that it had withdrawn a resolution asking Norfolk Southern shareholders to vote in favor of negotiations for a deal.
Norfolk Southern is on track to improve efficiency and achieve annual productivity savings of more than $650 million, the railroad said in a statement after the takeover bid was dropped. "We are confident the continued execution of our plan will deliver superior value to all of the company's stakeholders," it said. Norfolk Southern runs last on efficiency measures among large railroads.
Army Opposition
The Justice Department on Friday said Canadian Pacific's intention to create a voting trust to allow Harrison to run Norfolk Southern in advance of a takeover should be rejected. A day earlier, the U.S. Army said allowing two companies with "potentially competing interests" to be managed as one could harm national defense. U.S. Representative Bill Shuster, the chairman of the House transportation committee, was among lawmakers who expressed concern over the takeover plan.
Some shippers warned that service could suffer and costs could rise with further consolidation of a rail industry that went from dozens of carriers before the 1980s to seven major ones in the U.S. and Canada.
Norfolk Southern fell 2.7 percent to close at $79.28 in New York, leaving the stock down 6.3 percent this year as investors assumed the takeover proposal would fail. Canadian Pacific rose 2.6 percent to C$179.91 in Toronto.
Canadian Pacific will benefit by having Harrison and his management team drop the effort to win over Norfolk Southern shareholders and turn their full attention to running their railroad, said Walter Spracklin, an analyst with RBC Capital Markets.
"A management team of this caliber that is now able to redirect all of its focus and energy into railroading certainly bodes well from a fundamental standpoint -- and we see upside to consensus estimates as a result," he said.
Stock Buyback
Canadian Pacific shareholders can probably look forward to a stock buyback "in the coming weeks," Harrison said in the Bloomberg Television interview.
A large railroad merger hasn't been attempted since the late 1990s, after which the transportation board changed its criteria for approving deals to put more emphasis on competition, maintaining service and improving the fluidity of the rail network.
Ackman -- whose Pershing Square holds a 9.1 percent stake in Canadian Pacific -- had advocated for the merger during conference calls with analysts and investors. Ackman gained control of the railroad's board in a 2012 proxy battle and installed Harrison as CEO of the then-underperforming railroad.
CSX Approach
Harrison in 2014 had tried to start merger talks with another U.S. railroad, CSX Corp., but was rejected. Although the 71-year-old CEO was rebuffed again in January when he tried to revive the CSX talks, he said this March that he was still interested in the U.S. carrier. Harrison has said he could squeeze cost savings out of Norfolk Southern or CSX with his techniques of "precision railroading."
"We kind of turned that page," he said about CSX on Monday. "I don't see a lot of difference between the two. If there's opposition with Norfolk Southern, I would presume that CSX would have the same position that they had previously."
Harrison needed an acquisition to push up the value of Canadian Pacific after he cut costs as much as possible and a decline in crude production from Canada and the U.S. hurt cargo volume, said John Larkin, an analyst at Stifel Nicolaus & Co. 
Harrison and Canadian Pacific aren't likely to give up on their merger aspirations, said Lee Klaskow, an analyst at Bloomberg Intelligence.
"They might look for some more opportunistic times, maybe when the regulatory environment is a little better," he said. "They will continue to look towards M&A to enhance their network."
Before it's here, it's on the Bloomberg Terminal.
LEARN MORE