Cameron Finds Tax Silver Lining -- Tory Unity Amid `Brexit' Rift
by
Conservatives rally round prime minister over Panama leaks

Truce is short-lived as Euro-skeptic anger returns hours later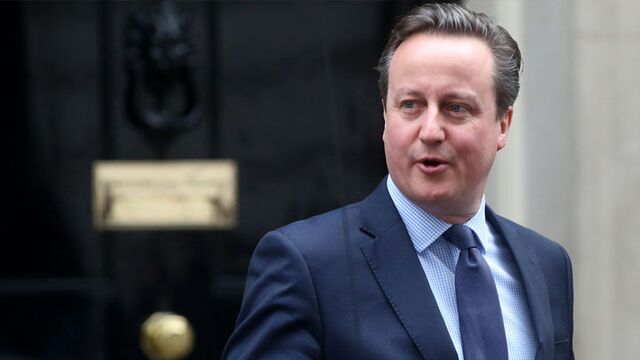 David Cameron found a silver lining to the clouds that have gathered over his tax affairs in the past week -- a brief outbreak of unity in his Conservative Party.
For months, the prime minister has found his principal opposition sitting behind him, with more than 100 Conservative members of Parliament signed up to the campaign to get Britain out of the European Union. There are still 10 weeks to go to the referendum and it's unclear how the tax spat has played out with voters as a whole, but with Cameron leading the fight to stay in, anything that damages him increases the chance of a so-called Brexit.
QuickTake Will Britain Leave the EU?
It was House of Commons Leader Chris Grayling, though, one of the most prominent of the cabinet members campaigning against EU membership, who led the charge to defend Cameron on Saturday as he came under attack over his past investment in an offshore fund. He was followed on Sunday by another pro-Brexit Conservative, Justice Minister Dominic Raab, who described the criticism of the prime minister as "deeply unsavory." Their motives may not simply have been loyalty.
"They're still Conservatives and he's their prime minister," Tim Bale, professor of politics at Queen Mary University of London, said in an interview. "The face of the party and, should the country vote to stay in the EU, still the guy who's going to be deciding on who gets promoted and demoted for a year or two to come at least."
Father's Fund
The prime minister endured a difficult time last week after documents leaked from Panama law firm Mossack Fonseca revealed details of the role played by his father, Ian, in running the offshore fund. It was only on Thursday that Cameron admitted he'd once had a stake in the investment.
Appearing before the House of Commons on Monday to defend his tax affairs, though, Cameron was relaxed, helped partly because of the struggles of Labour Party leader Jeremy Corbyn to locate a copy of his own tax return. When he did find it, it revealed that Cameron paid more in tax last year than Corbyn earned as a salary. Corbyn was also fined for filing the return late. But the main boost to the prime minister was the support from those on his own side who are more used to asking him awkward questions.
Edward Leigh, a leading Euro-skeptic, described the revelations about the prime minister's tax in an ironic tone as "shocking, shocking." Philip Davies, another Brexiteer, said it was "perfectly clear that neither the prime minister nor his father have done anything wrong at all." Michael Fabricant told the prime minister "that he should not be ashamed that he has the good fortune to be born into a well-off family."
"He has done nothing wrong and I am happy to support him," fellow Conservative James Cleverly said in an interview. "Our different positions on the EU doesn't deter me from standing by him during these unfair personal attacks."
'Low Achievers'
Their motivation wasn't simply a desire to keep in with the prime minister. There was also a traditionally Conservative anger at calls for higher taxes. Former oil trader Alan Duncan, one of those supporting staying in the EU, went so far as to claim that Labour lawmakers attacking the prime minister risked creating a Parliament "stuffed full of low achievers who hate enterprise."
The truce was short-lived, as Europe Minister David Lidington found out less than two hours later. It was his job to defend the government's decision to spend 9.3 million pounds ($13 million) sending a leaflet to every household making the case against Brexit.
In the first of a series of attacks from Conservatives, former Trade Secretary John Redwood called the leaflet "an abuse of public money and an insult to the electors." Former Defence Secretary Liam Fox called it a "dodgy dossier" and a "waste of public money."
If the tax row does damage Cameron, it could increase the chances of a Brexit. The Eurasia Group on Monday increased its probability of a vote to leave the EU to 40 percent from 30 percent, citing the Panama Papers. Separately, Steve Fisher of Oxford University and Alan Renwick of University College London increased their estimate of the probability to 27 percent from 13 percent.
"The Panama scandal is proving a disaster for Cameron," compounding what has been "a bruising six weeks" for his government and giving momentum to the Leave campaign, Eurasia Group analysts Mujtaba Rahman and Charles Lichfield said in a note explaining the decision to raise the chances of a so-called Brexit. "Voters' risk aversion and the economic uncertainty associated with leaving the EU will still give the edge to the 'Remain' campaign, but this is becoming a closer call."
Before it's here, it's on the Bloomberg Terminal.
LEARN MORE