Buffett's Business Wire Says Releases Halted After Power Failure
by and
Website says error has occurred processing visitor's request

Earlier web page alert advised investors to visit Yahoo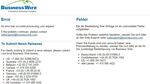 Business Wire, the press-release distribution company owned by Warren Buffett's Berkshire Hathaway Inc., said dissemination of content was halted.
"Due to a power outage at our third party co-location facility, Business Wire is experiencing a temporary network outage," Chief Operating Officer Richard DeLeo said in an e-mailed statement Monday. "Our service provider is currently working to resolve the issue. We will advise you as soon as our network is back up and fully operational."
Many of the largest U.S. companies, including Alcoa Inc. and Exxon Mobil Corp., rely on Business Wire to send out reports on events such as quarterly earnings and personnel moves. The breakdown occurred during one of the busiest times of the day for news, including the minutes after regular trading closed in stock U.S. markets. Last Monday, the news release site sent out more than 80 press releases from 3:30 p.m. New York time until 5 p.m.
"An error has occurred processing your request," the operation said on its web page Monday. That compares with an earlier alert that said "the Business Wire site is currently unavailable, but will be back shortly," and directed users to visit Yahoo! Finance or other web portals for releases from member companies.
Business Wire Chief Executive Officer Cathy Baron Tamraz in December announced the hiring of Robert Markel as chief information security officer, four months after allegations that an insider-trading ring relied on computer hackers to pilfer media announcements. Markel was previously at airline Virgin America Inc.
Before it's here, it's on the Bloomberg Terminal.
LEARN MORE