Leaked Brazil Tape Shows VP Temer Practicing Unity Address
By and
Temer pledges in audio to protect social welfare programs

Release of tape could fuel rhetoric of attempted coup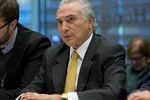 Brazil's impeachment saga took a bizarre twist on Monday after Vice President Michel Temer released a tape in which he discusses the outlines of a Temer administration in the event that Dilma Rousseff loses a crucial impeachment vote this weekend. 
As lawmakers in Brasilia weigh up the case against Rousseff, Temer's office said the audio was sent to a group of lawmakers by accident. 
"I don't want to generate false expectations," Temer said on the recordings, which were first published by Folha de Sao Paulo on Monday afternoon. "Let's not think that a possible change in government will solve everything in three or four months." 
The question now is how this plays into a charged political environment in which Rousseff and her supporters accuse the opposition of trying to mount a coup. Up to now, Temer had remained silent on his own ambitions and had avoided getting publicly involved in the day-to-day impeachment deliberations. 
"It could backfire on Temer, as Rousseff supporters will spin this as evidence that he's plotting against her," said Andre Cesar, a political analyst and founder of consulting company Hold Assessoria Legislativa in Brasilia. "But for now the momentum still seems to be going against Rousseff."
Temer also pledged to sustain the government's welfare payments and said that the private sector's role in the economy needs to be increased. 
The leak came just hours before a special lower house committee was scheduled to vote whether to back the request to impeach the president. The full house is expected to start voting as early as Friday whether to approve the motion that could result in Rousseff's removal from office.
The political stalemate has gripped the nation for the past year, exacerbating the worst recession in decades that has led to a wave of massive anti-government protests.