Yen Jump Changes Game for Top Bond Analyst Seeing April BOJ Move
by and
Central bank to expand ETF buying, rather than bonds: Ishii

`The BOJ must take action without hesitation,' says Ishii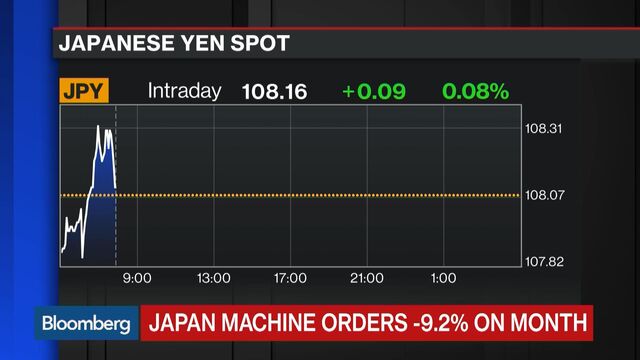 At the start of last week, Japan's top-rated bond analyst said the central bank was done expanding stimulus. By Friday, the yen had gained as much as 3.7 percent against the dollar and he was predicting action within the month.
Mitsubishi UFJ Morgan Stanley Securities Co.'s Jun Ishii reversed his view as the currency rally sent domestic stocks tumbling, while traders grew increasingly concerned about the risk of intervention. Ishii expects an increase in exchange-traded fund purchases at the Bank of Japan's two-day gathering ending April 28, but no expansion of bond buying or any cut to the minus 0.1 percent deposit rate.
"The BOJ must take action without hesitation," he said. "With the strong yen and weak stocks, the risks are rising for the trend in prices to take another step down."  
A weaker yen has been a linchpin in Shinzo Abe's campaign to spur growth and stoke inflation since he rose to be premier at the end of 2012 on calls for unlimited monetary stimulus. After some initial success, the BOJ's benchmark consumer price index has been stagnant since the start of 2015, and the economy is in danger of sliding into its second recession in two years. Record-low negative Japanese government bond yields are going to persist until at least 2019, according to Ishii.

Japan's 10-year sovereign note yielded minus 0.085 percent on Friday, from a record minus 0.135 percent reached March 18. It was untraded as of 10:43 a.m. in Tokyo at Japan Bond Trading Co. The yield on the two-year security was at minus 0.245 percent, half a basis point shy of its all-time low. Shorter-dated debt tends to be more sensitive to the outlook for monetary policy, suggesting investors also see heightened odds for additional BOJ stimulus.
The yen strengthened to as high as 107.63 per dollar Monday, a level unseen since before BOJ Governor Haruhiko Kuroda announced an expansion of his quantitative-and-qualitative easing program on Oct. 31, 2014. It completed a 3.4 percent weekly climb Friday that was its steepest in two months.
Ishii, voted No. 1 by Nikkei Veritas magazine for a third consecutive year last month, predicted even before the start of Kuroda's monetary policy experiment in 2013 that "unprecedentedly bold easing" from the central bank would likely strangle supply in the bond market. Then, two months before the expansion of QQE in October 2014, he flagged the risk that investors might hoard bonds to preserve income.
Unexpected Decision
He was a rarity in forecasting a potential cut to the deposit rate, but he says he was as surprised as the rest of the analyst community when the BOJ announced negative rates on Jan. 29. Unlike the majority of his peers, he doesn't think the deposit rate will be the BOJ's favored tool. "The public has a bad perception of negative rates," he said.
Kuroda said Tuesday the central bank won't hesitate to add to stimulus if it's judged necessary, and policy makers aren't only looking at negative rates for their options. The BOJ posted a Socratic dialog on its website titled "Understand Negative Rates in 5 Minutes," aimed at a general audience after the policy, among other things, led to a scramble to buy home safes.
Ishii also believes Kuroda and his colleagues will forgo further bond purchases, forecasting the central bank will reach the limits of the policy next year even at the current pace. That's in line with the view of former BOJ Deputy Governor Kazumasa Iwata.
Operation Obstacle
"Expanding bond purchases would just speed the policy toward its limit," Ishii said. "I wouldn't be surprised if the BOJ fails to get the amount it's seeking at its operations some time in the second half of this fiscal year," which ends in April 2017, he said.
Ishii sees the BOJ's share of the JGB market swelling to 39 percent in a year from now, from an already record 33 percent now. A lack of available securities will mean the central bank can no longer meet its goal of expanding the monetary base at an annual pace of about 80 trillion yen, forcing Kuroda to begin tapering next year, in Ishii's view.
Even then, he sees yields staying suppressed by the size of the central bank's balance sheet, with the benchmark 10-year largely bounded by a range of 0.1 percent to minus 0.15 percent until the end of fiscal 2018, and probably beyond.
"The money that the BOJ's bond shopping spree has injected into the market is going to continue to slosh around for a very long time, so even after tapering it's going to be like quantitative easing is continuing," he said. "If yields turn even slightly positive, they'll immediately be pushed down again as buyers rush in. Yields won't rise."
Before it's here, it's on the Bloomberg Terminal.
LEARN MORE